There was once a merchant who was so rich that he could have paved the whole street, and perhaps even a little side-street besides, with silver. But he did not do that; he knew another way of spending his money. If he spent a shilling he got back a florin-such an excellent merchant he was till he died.
Now his son inherited all this money. He lived very merrily; he went every night to the theatre, made paper kites out of five-pound notes, and played ducks and drakes with sovereigns instead of stones. In this way the money was likely to come soon to an end, and so it did.
At last he had nothing left but four shillings, and he had no clothes except a pair of slippers and an old dressing-gown.
His friends did not trouble themselves any more about him; they would not even walk down the street with him.
But one of them who was rather good-natured sent him an old trunk with the message, 'Pack up!" That was all very well, but he had nothing to pack up, so he got into the trunk himself.
It was an enchanted trunk, for as soon as the lock was pressed it could fly. He pressed it, and away he flew in it up the chimney, high into the clouds, further and further away. But whenever the bottom gave a little creak he was in terror lest the trunk should go to pieces, for then he would have turned a dreadful somersault-just think of it!
In this way he arrived at the land of the Turks. He hid the trunk in a wood under some dry leaves, and then walked into the town. He could do that quite well, for all the Turks were dressed just as he was-in a dressing-gown and slippers.
He met a nurse with a little child.
'Halloa! you Turkish nurse,' said he, 'what is that great castle there close to the town? The one with the windows so high up?'
'The sultan's daughter lives there,' she replied. 'It is prophesied that she will be very unlucky in her husband, and so no one is allowed to see her except when the sultan and sultana are by.'
'Thank you,' said the merchant's son, and he went into the wood, sat himself in his trunk, flew on to the roof, and crept through the window into the princess's room.
She was lying on the sofa asleep, and was so beautiful that the young merchant had to kiss her. Then she woke up and was very much frightened, but he said he was a Turkish god who had come through the air to see her, and that pleased her very much.
They sat close to each other, and he told her a story about her eyes. They were beautiful dark lakes in which her thoughts swam about like mermaids. And her forehead was a snowy mountain, grand and shining. These were lovely stories.
Then he asked the princess to marry him, and she said yes at once.
'But you must come here on Saturday,' she said, 'for then the sultan and the sultana are coming to tea with me. They will be indeed proud that I receive the god of the Turks. But mind you have a really good story ready, for my parents like them immensely. My mother likes something rather moral and high-flown, and my father likes something merry to make him laugh.'
'Yes, I shall only bring a fairy story for my dowry,' said he, and so they parted. But the princess gave him a sabre set with gold pieces which he could use.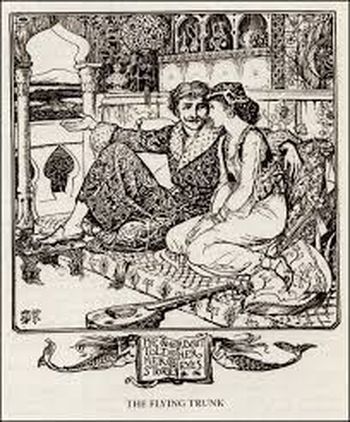 Then he flew away, bought himself a new dressing-gown, and sat down in the wood and began to make up a story, for it had to be ready by Saturday, and that was no easy matter.
When he had it ready it was Saturday.
The sultan, the sultana, and the whole court were at tea with the princess.
He was most graciously received.
'Will you tell us a story?' said the sultana; 'one that is thoughtful and instructive?'
'But something that we can laugh at,' said the sultan.
'Oh, certainly,' he replied, and began: 'Now, listen attentively. There was once a box of matches which lay between a tinder-box and an old iron pot, and they told the story of their youth.
'"We used to be on the green fir-boughs. Every morning and evening we had diamond-tea, which was the dew, and the whole day long we had sunshine, and the little birds used to tell us stories. We were very rich, because the other trees only dressed in summer, but we had green dresses in summer and in winter. Then the woodcutter came, and our family was split up. We have now the task of making light for the lowest people. That is why we grand people are in the kitchen."
'"My fate was quite different," said the iron pot, near which the matches lay.
'"Since I came into the world I have been many times scoured, and have cooked much. My only pleasure is to have a good chat with my companions when I am lying nice and clean in my place after dinner."
'"Now you are talking too fast," spluttered the fire. '"Yes, let us decide who is the grandest!" said the matches.
'"No, I don't like talking about myself," said the pot.
'"Let us arrange an evening's entertainment. I will tell the story of my life.
'"On the Baltic by the Danish shore-"
'What a beautiful beginning!" said all the plates. "That's a story that will please us all."
'And the end was just as good as the beginning. All the plates clattered for joy.
'"Now I will dance," said the tongs, and she danced. Oh! how high she could kick!
'The old chair-cover in the corner split when he saw her. 'The urn would have sung but she said she had a cold; she could not sing unless she boiled.
'In the window was an old quill pen. There was nothing remarkable about her except that she had been dipped too deeply into the ink. But she was very proud of that.
'"If the urn will not sing," said she, "outside the door hangs a nightingale in a cage who will sing."
'"I don't think it's proper," said the kettle, "that such a foreign bird should be heard."
'"Oh, let us have some acting," said everyone. "Do let us!" 'Suddenly the door opened and the maid came in. Everyone was quite quiet. There was not a sound. But each pot knew what he might have done, and how grand he was.
'The maid took the matches and lit the fire with them. How they spluttered and flamed, to be sure! "Now everyone can see," they thought, "that we are the grandest! How we sparkle! What a light-"
'But here they were burnt out.'
'That was a delightful story!' said the sultana. 'I quite feel myself in the kitchen with the matches. Yes, now you shall marry our daughter.'
'Yes, indeed,' said the sultan, 'you shall marry our daughter on Monday.' And they treated the young man as one of the family.
The wedding was arranged, and the night before the whole town was illuminated.
Biscuits and gingerbreads were thrown among the people, the street boys stood on tiptoe crying hurrahs and whistling through their fingers. It was all splendid.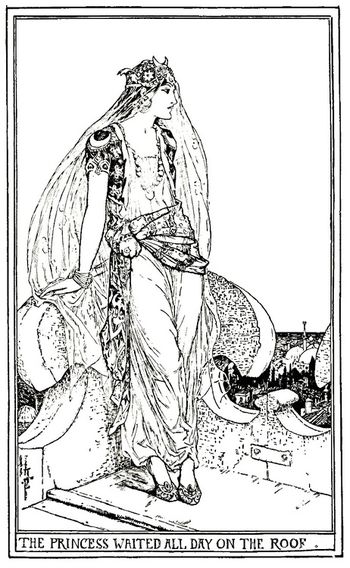 'Now I must also give them a treat,' thought the merchant's son. And so he bought rockets, crackers, and all the kinds of fireworks you can think of, put them in his trunk, and flew up with them into the air.
Whirr-r-r, how they fizzed and blazed!
All the Turks jumped so high that their slippers flew above their heads; such a splendid glitter they had never seen before.
Now they could quite well understand that it was the god of the Turks himself who was to marry the princess.
As soon as the young merchant came down again into the wood with his trunk he thought, 'Now I will just go into the town to see how the show has taken.'
And it was quite natural that he should want to do this.
Oh! what stories the people had to tell!
Each one whom he asked had seen it differently, but they had all found it beautiful.
'I saw the Turkish god himself,' said one. 'He had eyes like glittering stars, and a beard like foaming water.'
'He flew away in a cloak of fire,' said another. They were splendid things that he heard, and the next day was to be his wedding day.
Then he went back into the wood to sit in his trunk; but what had become of it? The trunk had been burnt. A spark of the fireworks had set it alight, and the trunk was in ashes. He could no longer fly, and could never reach his bride.
She stood the whole day long on the roof and waited; perhaps she is waiting there still.
But he wandered through the world and told stories; though they are not so merry as the one he told about the matches.
---
Translated from the German of Hans Andersen.

Il baule volante


C'era una volta un mercante il quale era così ricco che avrebbe potuto pavimentare d'argento una strada intera, e forse per di più un vicoletto. Ma non lo fece; sapeva in quale altro modo spendere il proprio denaro. Se spendeva uno scellino, gli rientrava un fiorino – e fu un mercante eccellente finché morì.
Suo figlio ereditò tutto questo denaro. Viveva assai felicemente; andava ogni notte a teatro, usava banconote da cinque sterline per fare aquiloni, e trastullava le anatre con le sovrane invece che con i sassi. In questo modo il denaro era destinato facilmente a finire, e così fu.
Alla fine non gli rimasero che quattro scellini, e non aveva altro abbigliamento che un paio di pantofole e una vecchia vestaglia.
I suoi amici non si curarono più di lui; non volevano neppure camminare per strada con lui.
Uno di loro, che era di indole gentile, gli diede un vecchio baule con un messaggio, "Riempilo!" Facile a dirsi, ma non aveva nulla da infilarvi, così lui stesso entrò nel baule.
Era un baule magico perché, appena si toccava la serratura, poteva volare. Egli la premette e vi volò via sopra i comignoli, in alto fra le nuvole, sempre più lontano. Ogni volta in cui il fondo scricchiolava, era terrorizzato che il baule andasse in pezzi perché allora avrebbe fatto una tremenda caduta, pensa un po'!
In tal modo arrivò nella terra dei Turchi. Nascose il baule in un bosco, sotto uno strato di foglie secche, poi s'incamminò verso la città. Poteva farlo assai bene perché tutti i Turchi erano abbigliati come lui in pantofole e vestaglia.
Incontrò una balia con un bambino.
"Ehi, balia turca," disse, "che cos'è quel grande castello vicino alla città? Quello con le finestre così in alto?"
Lei rispose: "Ci vive la figlia del sultano, è stato profetizzato che sarà molto sfortunata con suo marito e così a nessuno è permesso vederla a meno che non sia con il sultano o con la sultana."
"Ti ringrazio." disse il figlio del mercante, poi andò nel bosco, si cacciò nel baule, volò sul tetto e s'infilò attraverso la finestra nella stanza sella principessa.
Lei era sdraiata a dormire su un divano, ed era così bella che il giovane mercante la baciò. Allora lei si svegliò e fu assai spaventata, ma lui le disse di essere una divinità turca che era giunta dal cielo per vederla e che gli piaceva molto.
Sedettero l'uno vicino all'altra e lui le raccontò una storia sui suoi occhi. Erano meravigliosi laghi oscuri nei quali i suoi pensieri nuotavano come sirene. E la sua fronte era una montagna innevata, imponente e scintillante. Erano storielle affascinanti.
Allora chiese alla principessa di sposarlo e lei disse subito sì.
"Però devi venire qui sabato," disse, "perché il sultano e la sultana vengono a prendere il tè con me. Saranno davvero orgogliosi che io riceva il dio dei Turchi. Ma ricordati di avere delle buone storie da raccontare perché i miei genitori le gradiscono immensamente. A mia madre piace qualcosa di solenne e con una morale, e mio padre ama tantissimo le cose allegre che lo facciano ridere."
"Oh, sì, porterò in dote solo una storia fantastica," disse lui, e così se ne andò. Ma la principessa gli diede una sciabola tempestata di pezzi d'oro affinché la usasse.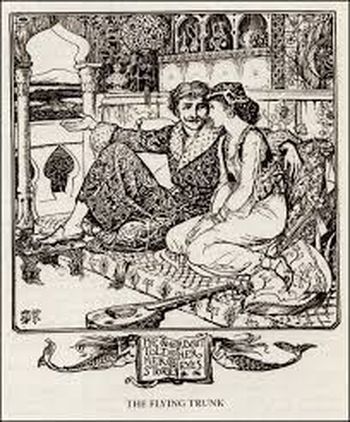 Allora volò via, si comprò una vestaglia nuova, sedette nel bosco e cominciò a inventare una storia perché fosse pronta per sabato, e non era cos facile.
Quando l'ebbe preparata, era sabato.
Il sultano, la sultana e l'intera corte erano al tè con la principessa.
Egli fu ricevuto assai cortesemente.
La sultana disse. "Ci narrerai una storia? Una che sia profonda e istruttiva?"
"Ma qualcosa di cui si possa ridere." disse il sultano.
Lui rispose: "Oh, certamente!" e cominciò: "Adesso ascoltate con attenzione. C'era una volta una scatola di fiammiferi che stava tra una scatola di stoppini e una vecchia pentola di ferro, e raccontavano la storia della loro gioventù."
'"Eravamo il ramo di un giovane abete. Ogni mattina e sera gustavamo un tè di diamanti, che era la rugiada, e per tutto il giorno godevamo della luce del sole, gli uccellini erano soliti raccontarci storie. Eravamo assai ricchi perché gli altri alberi si ornavano solo d'estate mentre noi indossavamo un abito verde in estate e in inverno. Poi venne il taglialegna e la nostra famiglia fu divisa. Ecco perché noi gente illustre siamo in cucina."
'"Il mio destino è stato diverso," disse la pentola di ferro, che stava vicino ai fiammiferi.
'"Sin da quando venni al mondo sono stata strofinata molte volte e ho cucinato tanto. Il mio unico piacere è fare quattro chiacchiere con i miei compagni quando sto bella e pulita al mio posto dopo la cena."
'"Adesso vuoi saperla lunga." scoppiettò il fuoco.
'"Sì, decidiamo chi sia il più importante!" dissero i fiammiferi.
'"No, non mi piace parlare di me stessa." disse la pentola.
'"Prepariamoci a un intrattenimento serale. Racconterò la storia della mia vita.
'"Sulle coste danesi del mar Baltico…"
'Che bell'inizio!" dissero tutti i piatti. "È una storia che ci piacerà."
'E la fine sarà anche migliore dell'inizio. Tutti i piatti sbatterono rumorosamente per la contentezza.
'"Adesso danzerò," disse la pinza, e danzò. Oh! Come scalciava in alto!
La caffettiera avrebbe volute cantare, ma disse che aveva preso il raffreddore; non avrebbe potuto cantare a meno che bollisse.
'Sulla finestra c'era una vecchia penna d'oca. Non aveva niente di notevole tranne che era sta immersa troppo nell'inchiostro. Ma ne era davvero orgogliosa.
'"Se la caffettiera non canterà," disse, "fuori della porta è appeso un usignolo in gabbia che canterà."
'"Non penso sia opportuno," disse il bricco, "che si ascolti questo uccello forestiero."
'"Oh, lasciaci fare qualcosa," disse ognuno. "Facciamolo!"
'All'improvviso si aprì la porta ed entrò la domestica. Ciascuno stette tutto tranquillo. Non si sentiva un rumore. Ma ogni pentola sapeva che cosa avrebbe fatto e quanto fosse importante.
'La domestica prese i fiammiferi e con essi accese il fuoco. Potete star sicuri che crepitarono e arsero! "Ora ciascuno può vedere," pensarono, "che siamo i migliori! Come scintilliamo! Che luce-"
'Ma così furono bruciati.'
'È stata una storia deliziosa!' disse la sultana. 'Mi sembra quasi d'essere in cucina con i fiammiferi. Sì, adesso sposerai nostra figlia.'
'Sì, davvero,' disse il sultano, 'sposerai nostra figlia lunedì.' E trattarono il giovane come uno di famiglia.
Furono organizzate le nozze e la notte precedente fu illuminata l'intera città.
Furono distribuiti al popolo biscotti e pani di zenzero, i monelli di strada si alzavano sulle punte dei piedi gridando urrà e fischiando con le dita. Tutto era sfarzoso.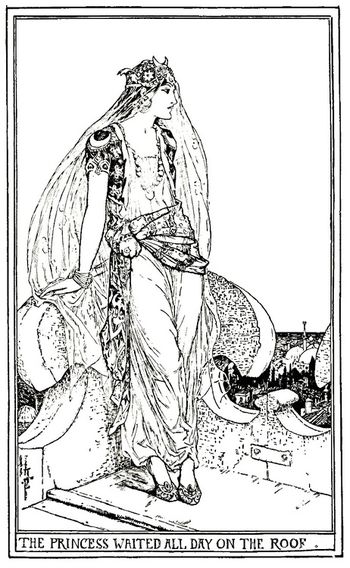 'Ora devo solo dare loro una festa,' pensò il figlio del mercante. E così comprò razzi, mortaretti e ogni genere di fuochi d'artificio che vi venga in mente, li mise nel baule e volò in aria con essi.
Whirr-r-r, come sibilavano e splendevano!
Tutti i Turchi saltarono tanto che le pantofole volarono sopra le loro teste; non avevano mai visto prima un tale magnifico splendore.
Adesso era del tutto comprensibile che fosse il dio dei Turchi in persona a sposare la principessa.
Appena il giovane mercante fu sceso nel bosco con il baule, pensò: "Adesso andrò in città per veder come sia stato accolto lo spettacolo."
Oh! Che storie aveva da raccontare la gente!
Ognuno di loro affermava una cosa diversa, ma tutti reputavano che fosse stata una meraviglia.
'Ho visto il dio dei Turchi in persona! diceva uno. "Aveva gli occhi come stelle luminose e la barba come acqua fluente.'
'È volato via in un manto di fuoco,' diceva un altro. Erano fantastiche le cose che udiva, e il giorno successivo sarebbe stato quello del suo matrimonio.
Allora tornò nel bosco per infilarsi nel baule; ma che cosa gli era accaduto? Il baule era bruciato. Una scintilla dei fuochi d'artificio lo aveva incendiato e il baule era in cenere. Non avrebbe più potuto volare e non avrebbe mai potuto raggiungere la sua sposa.
Lei rimase sul tetto per tutto il giorno e lo aspettò; forse sta aspettando ancora lì.
Lui vagabonda per il mondo e narra storie; tuttavia non sono belle come quella che raccontò sui fiammiferi.
---
Traduzione dalla versione tedesca di Hans Christian Andersen




---
(traduzione dall'inglese di Annarita Verzola)