Allerleirauh or the Many-Furred Creature



(MP3-12'27'')
There was once upon a time a King who had a wife with golden hair, and she was so beautiful that you couldn't find anyone like her in the world. It happened that she fell ill, and when she felt that she must soon die, she sent for the King, and said, 'If you want to marry after my death, make no one queen unless she is just as beautiful as I am, and has just such golden hair as I have. Promise me this.' After the King had promised her this, she closed her eyes and died.
For a long time the King was not to be comforted, and he did not even think of taking a second wife. At last his councillors said, 'The King must marry again, so that we may have a queen.' So messengers were sent far and wide to seek for a bride equal to the late Queen in beauty. But there was no one in the wide world, and if there had been she could not have had such golden hair. Then the messengers came home again, not having been able to find a queen.
Now, the King had a daughter, who was just as beautiful as her dead mother, and had just such golden hair. One day when she had grown up, her father looked at her, and saw that she was exactly like her mother, so he said to his councillors, 'I will marry my daughter to one of you, and she shall be queen, for she is exactly like her dead mother, and when I die her husband shall be king.' But when the Princess heard of her father's decision, she was not at all pleased, and said to him, 'Before I do your bidding, I must have three dresses; one as golden as the sun, one as silver as the moon, and one as shining as the stars. Besides these, I want a cloak made of a thousand different kinds of skin; every animal in your kingdom must give a bit of his skin to it.' But she thought to herself, 'This will be quite impossible, and I shall not have to marry someone I do not care for.' The King, however, was not to be turned from his purpose, and he commanded the most skilled maidens in his kingdom to weave the three dresses, one as golden as the sun, and one as silver as the moon, and one as shining as the stars; and he gave orders to all his huntsmen to catch one of every kind of beast in the kingdom, and to get a bit of its skin to make the cloak of a thousand pieces of fur. At last, when all was ready, the King commanded the cloak to be brought to him, and he spread it out before the Princess, and said, 'Tomorrow shall be your wedding-day.' When the Princess saw that there was no more hope of changing her father's resolution, she determined to flee away. In the night, when everyone else was sleeping, she got up and took three things from her treasures, a gold ring, a little gold spinning-wheel, and a gold reel; she put the sun, moon, and star dresses in a nut-shell, drew on the cloak of many skins, and made her face and hands black with soot. Then she commended herself to God, and went out and travelled the whole night till she came to a large forest. And as she was very much tired she sat down inside a hollow tree and fell asleep.
The sun rose and she still slept on and on, although it was nearly noon. Now, it happened that the king to whom this wood belonged was hunting in it. When his dogs came to the tree, they sniffed, and ran round and round it, barking. The King said to the huntsmen, 'See what sort of a wild beast is in there.' The huntsmen went in, and then came back and said, 'In the hollow tree there lies a wonderful animal that we don't know, and we have never seen one like it; its skin is made of a thousand pieces of fur; but it is lying down asleep.' The King said, 'See if you can catch it alive, and then fasten it to the cart, and we will take it with us.' When the huntsmen seized the maiden, she awoke and was frightened, and cried out to them, 'I am a poor child, forsaken by father and mother; take pity on me, and let me go with you.'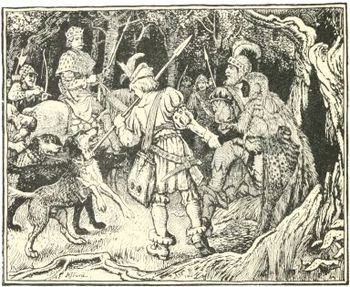 Then they said to her, 'Many-furred Creature, you can work in the kitchen; come with us and sweep the ashes together.' So they put her in the cart and they went back to the palace. There they showed her a tiny room under the stairs, where no daylight came, and said to her, 'Many-furred Creature, you can live and sleep here.' Then she was sent into the kitchen, where she carried wood and water, poked the fire, washed vegetables, plucked fowls, swept up the ashes, and did all the dirty work.
So the Many-furred Creature lived for a long time in great poverty. Ah, beautiful King's daughter, what is going to befall you now?
It happened once when a great feast was being held in the palace, that she said to the cook, 'Can I go upstairs for a little bit and look on? I will stand outside the doors.' The cook replied, 'Yes, you can go up, but in half-an-hour you must be back here to sweep up the ashes.' Then she took her little oil-lamp, and went into her little room, drew off her fur cloak, and washed off the soot from her face and hands, so that her beauty shone forth, and it was as if one sunbeam after another were coming out of a black cloud. Then she opened the nut, and took out the dress as golden as the sun. And when she had done this, she went up to the feast, and everyone stepped out of her way, for nobody knew her, and they thought she must be a King's daughter. But the King came towards her and gave her his hand, and danced with her, thinking to himself, 'My eyes have never beheld anyone so fair!' When the dance was ended, she curtseyed to him, and when the King looked round she had disappeared, no one knew whither. The guards who were standing before the palace were called and questioned, but no one had seen her.
She had run to her little room and had quickly taken off her dress, made her face and hands black, put on the fur cloak, and was once more the Many-furred Creature. When she came into the kitchen and was setting about her work of sweeping the ashes together, the cook said to her, 'Let that wait till to-morrow, and just cook the King's soup for me; I want to have a little peep at the company upstairs; but be sure that you do not let a hair fall into it, otherwise you will get nothing to eat in future!' So the cook went away, and the Many-furred Creature cooked the soup for the King. She made a bread-soup as well as she possibly could, and when it was done, she fetched her gold ring from her little room, and laid it in the tureen in which the soup was to be served up.
When the dance was ended, the King had his soup brought to him and ate it, and it was so good that he thought he had never tasted such soup in his life. But when he came to the bottom of the dish he saw a gold ring lying there, and he could not imagine how it got in. Then he commanded the cook to be brought before him. The cook was terrified when he heard the command, and said to the Many-furred Creature, 'You must have let a hair fall into the soup, and if you have you deserve a good beating!' When he came before the King, the King asked who had cooked the soup. The cook answered, 'I cooked it.' But the King said, 'That's not true, for it was quite different and much better soup than you have ever cooked.' Then the cook said, 'I must confess;I did not cook the soup; the Many-furred Creature did.' 'Let her be brought before me,' said the King. When the Many-furred Creature came, the King asked her who she was. 'I am a poor child without father or mother.' Then he asked her, 'What do you do in my palace?' 'I am of no use except to have boots thrown at my head.' 'How did you get the ring which was in the soup?' he asked. 'I know nothing at all about the ring,' she answered. So the King could find out nothing, and was obliged to send her away.
After a time there was another feast, and the Many-furred Creature begged the cook as at the last one to let her go and look on. He answered, 'Yes, but come back again in half-an-hour and cook the King the bread-soup that he likes so much.' So she ran away to her little room, washed herself quickly, took out of the nut the dress as silver as the moon and put it on. Then she went upstairs looking just like a King's daughter, and the King came towards her, delighted to see her again, and as the dance had just begun, they danced together. But when the dance was ended, she disappeared again so quickly that the King could not see which way she went. She ran to her little room and changed herself once more into the Many-furred Creature, and went into the kitchen to cook the bread-soup. When the cook was upstairs, she fetched the golden spinning-wheel and put it in the dish so that the soup was poured over it. It was brought to the King, who ate it, and liked it as much as the last time. He had the cook sent to him, and again he had to confess that the Many-furred Creature had cooked the soup. Then the Many-furred Creature came before the King, but she said again that she was of no use except to have boots thrown at her head, and that she knew nothing at all of the golden spinning-wheel.
When the King had a feast for the third time, things did not turn out quite the same as at the other two. The cook said, 'You must be a witch, Many-furred Creature, for you always put something in the soup, so that it is much better and tastes nicer to the King than any that I cook.' But because she begged hard, he let her go up for the usual time. Now she put on the dress as shining as the stars, and stepped into the hall in it.
The King danced again with the beautiful maiden, and thought she had never looked so beautiful. And while he was dancing, he put a gold ring on her finger without her seeing it, and he commanded that the dance should last longer than usual. When it was finished he wanted to keep her hands in his, but she broke from him, and sprang so quickly away among the people that she vanished from his sight. She ran as fast as she could to her little room under the stairs, but because she had stayed too long beyond the half-hour, she could not stop to take off the beautiful dress, but only threw the fur cloak over it, and in her haste she did not make herself quite black with the soot, one finger remaining white. The Many-furred Creature now ran into the kitchen, cooked the King's bread-soup, and when the cook had gone, she laid the gold reel in the dish. When the King found the reel at the bottom, he had the Many-furred Creature brought to him, and then he saw the white finger, and the ring which he had put on her hand in the dance. Then he took her hand and held her tightly, and as she was trying to get away, she undid the fur-cloak a little bit and the star-dress shone out.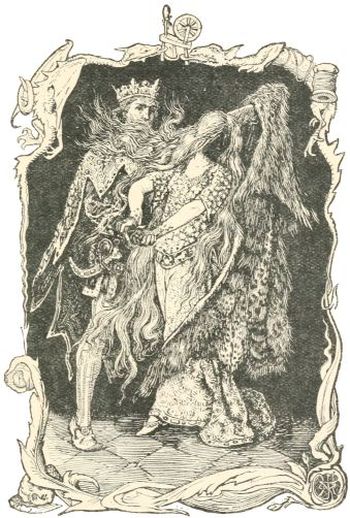 The King seized the cloak and tore it off her. Her golden hair came down, and she stood there in her full splendour, and could not hide herself away any more. And when the soot and ashes had been washed from her face, she looked more beautiful than anyone in the world. But the King said, 'You are my dear bride, and we will never be separated from one another.' So the wedding was celebrated and they lived happily ever after.
---
Grimm.

Allerleirauh o la Creatura dalle Mille Pellicce


C'era una volta un re che aveva una moglie con i capelli biondi, così bella che non se ne poteva trovare al modo una uguale. Accadde che si ammalò e quando sentì di essere in punto di morte, mandò a chiamare il re e disse: "Se vorrai sposarti dopo la mia morte, non prendere nessuna regina a meno che sia bella come me e abbia i cappelli biondi proprio come me. Promettimelo." dopo che il re glielo ebbe promesso, la regina chiuse gli occhi e morì.
Per molto tempo il re fu inconsolabile e non pensò proprio di prendere una seconda moglie. Alla fine i consiglieri dissero: "Il re deve sposarsi di nuovo così che noi si possa avere una regina." così furono mandati messaggeri in lungo e in largo a cercare una sposa pari in bellezza alla defunta regina. Non ve n'era una in tutto il mondo e, se c'era, non aveva capelli così biondi. Allora i messaggeri tornarono di nuovo a casa senza essere stati capaci di trovare una regina.
Dovete sapere che il re aveva una figlia, bella come la defunta madre, e bionda proprio come lei. Un giorno, quando fu cresciuta, il padre la guardò e vide che era esattamente come la madre così disse ai consiglieri: "Darò in sposa mia figlia a uno di voi e sarà regina perché è esattamente come la defunta madre, e quando io sarò morto, suo marito diventerà re." Quando la principessa seppe della decisione del padre, non ne fu affatto contenta e gli disse: "Prima che faccia ciò che mi ordini, devo avere tre vestiti: uno dorato come il sole, uno argenteo come la luna e uno scintillante come le stelle. Inoltre voglio un mantello fatto con mille differenti tipi di pelle; ogni animale del regno dovrà darne un pezzetto. Tra se pensava: '"Tutto ciò è quasi impossibile e io non dovrò preoccuparmi di sposare nessuno.' Il re in ogni modo non abbandonò il proposito e ordinò alle più abili fanciulle del regno di tessere i tre vestiti, uno d'oro come il sole, uno d'argento come la luna e uno scintillante come le stelle; e inoltre diede ordine ai cacciatori di catturare ogni genere di di animale nel regno e di prendergli un pezzetto di pelle per fare il mantello dai mille pezzi di pelliccia. Alla fine, quando tutto fu pronto, il re ordinò che gli fossero portati gli indumenti e li stese davanti alla principessa dicendo: "Domani sarà il giorno delle tue nozze." Quando la principessa vide di non avere più speranza di far cambiare idea al padre, decise di fuggire. Di notte, quando tutti dormivano, si alzò e prese tre oggetti dai suoi tesori: un anello d'oro, un piccolo arcolaio d'oro e un fuso d'oro. Chiuse i vestiti di sole, di luna e di stelle in un guscio di noce, indossò il mantello di mille pelli e si sporcò di nero il viso con la fuliggine. Poi si raccomandò a Dio, uscì e viaggiò per tutta la notte finché giunse in una vasta foresta. Siccome era molto stanca, sedette nel cavo di un albero e si addormentò.
Sorse il sole e lei dormiva ancora, sebbene fosse quasi mezzogiorno. Avvenne che un re, al quale apparteneva il bosco, vi stesse cacciando. Quando i suoi cani giunsero presso l'albero, lo annusarono e vi corsero intorno abbaiando. Il re disse ai cacciatori. "guadate che razza di animale vi sia dentro." i cacciatori si avvicinarono e tornarono indietro dicendo: "Nell'albero cavo c'è un animale magnifico che non conosciamo e non ne abbiamo mai visto uno simile; la sua pelle è fatta di un migliaio di pezzi di pelliccia, ma giace addormentato." il re disse: "Badate di catturarlo vivo e poi assicuratelo al carro, che lo porteremo con noi." Quando i cacciatori afferrarono la ragazza, lei si svegliò e si spaventò, strillando loro: "Sono una povera ragazza abbandonata dal padre e dalla madre, abbiate pietà di me e lasciatemi venire con voi."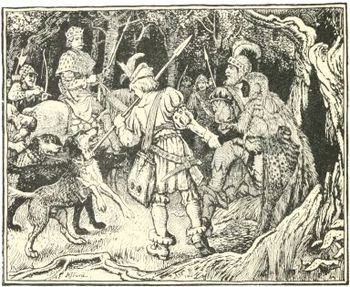 Allora le dissero: "Creatura dalle Mille Pellicce, puoi vivere e dormire qui." "Poi fu mandata in cucina dove trasportava la legna e l'acqua, accendeva il fuoco, lavava le verdure, spennava i polli, spazzava via la cenere e faceva ogni sorta di lavori sporchi.
Così la Creatura dalle Mille Pellicce visse a lungo in estrema povertà. Ah, bella figlia del re, che cosa ti è capitato?
Avvenne che, quando fu data una grande festa a palazzo, lei dicesse al cuoco: "Posso salire al piano superiore per un po' e dare un'occhiata? Starò dietro la porta." Il cuoco rispose: "Sì, puoi andare, ma tra mezz'ora dovrai essere di ritorno per spazzare la cenere." Allora la principessa prese una piccola lampada a olio, andò nella sua stanzetta, si tolse il mantello di pelliccia e lavò via la fuliggine dalle mani e dal viso così che la sua bellezza tornò a rifulgere e fu come se un raggio di sole dopo l'altro squarciassero una nube nera. Poi aprì la noce e prese l'abito dorato come il sole. Quando l'ebbe indossato, andò alla festa e ognuno le faceva largo al passaggio perché non la conoscevano e pensavano fosse la figlia di un re. Il re venne verso di lei e le porse la mano, danzò con lei e pensò tra sé: 'I miei occhi non hanno mai visto una creatura così bella!' Quando la danza fu terminata, la principessa fece la riverenza e quando il re si guardò attorno, era sparita e nessuna sapeva dove. Le guardie che stavano davanti al palazzo furono chiamate e interrogate, ma nessuna l'aveva vista.
La principessa corse nella stanzetta e si liberò in fretta del vestito, si sporcò di nero il viso e le mani, indossò il manto di pelliccia e fu ancora una volta la Creatura dalle Mille Pellicce. Quando giunse in cucina e si stava dedicando al lavoro di spazzare la cenere, il cuoco le disse: "Lascia stare fino a domani e prepara la posto mio la zuppa per il re; io vado a dare un'occhiata alla comitiva di sopra, ma assicurati che non vi cada dentro un capello altrimenti non avrai più nulla da mangiare in futuro!"
Così il cuoco andò via e la Creatura dalle Mille Pellicce cucinò la zuppa per il re. La preparò meglio che poté e quando fu pronta, prese l'anello d'oro dalla sua stanzetta e lo depose nella zuppiera in cui la zuppa sarebbe stata servita.
Quando il ballo fu terminato, il re si fece portare la zuppa e la mangiò, era così buona che pensò di non averne mai assaggiata una simile in tutta la vita. Quando giunse al fondo del piatto, vide lì un anello d'oro e non riusciva a immaginare come vi fosse giunto. Allora ordinò che il cuoco fosse condotta davanti a lui. Il cuoco fu terrorizzato nel sentire quell'ordine e disse alla Creatura dalle Mille Pellicce: "Devi aver lasciato cadere un capello nella zuppa e se lo hai fatto, meriti di essere picchiata ben bene!" quando fu davanti al re, egli chiese chi avesse cucinato la zuppa. Il cuoco rispose: "L'ho cucinata io. " il re disse: "Non è vero perché era molto diversa e assai più buona di quelle che tu hai sempre cucinato." Allora il cuoco disse: "Devo confessarlo, non ho cucinato io la zuppa, l'ha fatta la Creatura dalle Mille Pellicce." "Portatela al mio cospetto." disse il re. Quando la Creatura dalle Mille Pellicce giunse, il re le chiese chi fosse. "Sono una povera ragazza senza padre né madre." Poi le chiese: "Che cosa fai nel mio palazzo?" "Non servo ad altro che a prendere stivali in testa." "Chi ti ha dato l'anello che era nella mia zuppa?" chiese ancora il re. "Non so nulla dell'anello." rispose la principessa. Così il re non poté scoprire nulla e fu costretto a congedarla.
Dopo un po' di tempo vi fu un'altra festa e la Creatura dalle Mille Pellicce pregò il cuoco, come la volta precedente, di lasciarla andare a vedere. Lui rispose: "Sì, ma torna tra mezz'ora a preparare al re la zuppa che gli piace tanto." così lei corse nella sua stanzetta, si lavò in fretta, tirò fuori il vestito d'argento come la luna e lo indossò. Poi salì al piano superiore con l'aspetto proprio di una figlia di re e il re venne verso di lei, felice di vederla di nuovo, e come la danza iniziò, danzarono insieme. Quando la danza fu terminata, lei sparì di nuovo così rapidamente che il re non poté vedere dove andasse. Corse nella sua stanzetta, si trasformò ancora una volta nella Creatura dalle Mille Pellicce e andò in cucina a preparare la zuppa. Quando il cuoco andò di sopra, prese il piccolo arcolaio e lo mise nel piatto in cui sarebbe stata versata la zuppa. La zuppa fu portata la re che la mangiò e l'apprezzò come la volta precedente. Mandò a chiamare il cuoco e di nuovo egli dovette confessare che era stata la Creatura dalle Mille Pellicce a cucinare la zuppa. Allora fu convocata al cospetto del re, ma di nuovo disse di essere buona soltanto a ricevere stivali intesta e che non sapeva nulla del piccolo arcolaio d'oro.
Quando il re diede una festa per la tera volta, le cose andarono esattamente come le altre due. Il cuoco disse: "Devi essere una strega, Creatura dalle mille pellicce, perché metti sempre qualcosa nella zuppa così che sia migliore e piaccia al re più di qualsiasi cosa cucini io." Siccome lo pregò con insistenza, la lasciò andare su per la terza volta. Stavolta lei indossò l'abito che scintillava come le stelle e entrò così vestita nel salone.
Il re danzò di nuovo con la splendida fanciulla e pensò di non averne mai vista una così bella. Mentre stava danzando, le mise un anello d'oro al dito senza che lei se ne accorgesse e ordinò che la danza durasse più a lungo del solito. Quando fu finita, voleva trattenere la sua mano nella propria, ma le si staccò da lui e balzò così velocemente tra le persone che sparì alla vista. Corse più in fretta che poté nella sua stanzetta sotto le scale, ma siccome si era trattenuta più di mezz'ora, non poté fermarsi a togliere il meraviglioso abito ma solo gettargli sopra il mantello di pelliccia e nella fretta con cui si annerì con la fuliggine, un dito rimase bianco. La Creatura dalle Mille pellicce corse in cucina, preparò la zuppa per il re e quando il cuoco se ne fu andato, depose nel piatto il piccolo fuso d'oro. Quando il re lo trovò sul fondo, si fece condurre la Creatura dalle Mille Pellicce e allora vide il dito bianco e l'anello che le aveva infilato sulla mano durante la danza. Allora le prese la mano e la tenne saldamente e siccome lei tentava di divincolarsi, mosse un po' il mantello di pelliccia e l'abito come le stelle scintillò. Il re afferrò il mantello e glielo strappò via.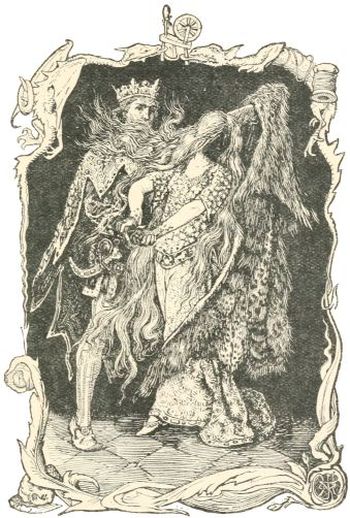 I suoi capelli biondi si sciolsero, la principessa apparve in tutto il suo splendore e non poté nascondersi più. Quando la cenere e la fuliggine furono lavate via dal suo viso, apparve più bella di chiunque al mondo. Il re disse: "Tu sei la mia cara sposa e non ci separeremo mai l'uno dall'altra." Così furono celebrate le nozze e vissero per sempre felici e contenti.
---
Fratelli Grimm


(traduzione dall'inglese di Annarita Verzola)