The Twelve Huntsmen



(MP3-06'02'')
Once upon a time there was a King's son who was engaged to a Princess whom he dearly loved. One day as he sat by her side feeling very happy, he received news that his father was lying at the point of death, and desired to see him before his end. So he said to his love: 'Alas! I must go off and leave you, but take this ring and wear it as a remembrance of me, and when I am King I will return and fetch you home.'
Then he rode off, and when he reached his father he found him mortally ill and very near death.
The King said: 'Dearest son, I have desired to see you again before my end. Promise me, I beg of you, that you will marry according to my wishes'; and he then named the daughter of a neighbouring King who he was anxious should be his son's wife. The Prince was so overwhelmed with grief that he could think of nothing but his father, and exclaimed: 'Yes, yes, dear father, whatever you desire shall be done.' Thereupon the King closed his eyes and died.
After the Prince had been proclaimed King, and the usual time of mourning had elapsed, he felt that he must keep the promise he had made to his father, so he sent to ask for the hand of the King's daughter, which was granted to him at once.
Now, his first love heard of this, and the thought of her lover's desertion grieved her so sadly that she pined away and nearly died. Her father said to her: 'My dearest child, why are you so unhappy? If there is anything you wish for, say so, and you shall have it.'
His daughter reflected for a moment, and then said: 'Dear father, I wish for eleven girls as nearly as possible of the same height, age, and appearance as myself.'
Said the King: 'If the thing is possible your wish shall be fulfilled'; and he had his kingdom searched till he found eleven maidens of the same height, size, and appearance as his daughter.
Then the Princess desired twelve complete huntsmen's suits to be made, all exactly alike, and the eleven maidens had to dress themselves in eleven of the suits, while she herself put on the twelfth. After this she took leave of her father, and rode off with her girls to the court of her former lover.
Here she enquired whether the King did not want some huntsmen, and if he would not take them all into his service. The King saw her but did not recognize her, and as he thought them very good-looking young people, he said, 'Yes, he would gladly engage them all.' So they became the twelve royal huntsmen.
Now, the King had a most remarkable Lion, for it knew every hidden or secret thing.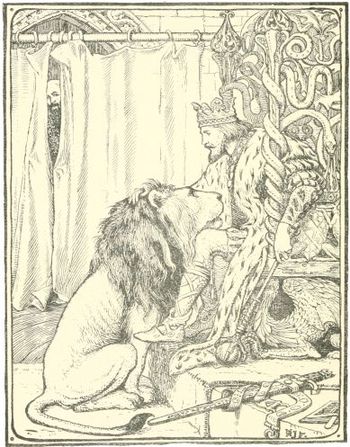 One evening the Lion said to the King: 'So you think you have got twelve huntsmen, do you?'
'Yes, certainly,' said the King, 'they are twelve huntsmen.'
'There you are mistaken,' said the Lion; 'they are twelve maidens.'
'That cannot possibly be,' replied the King; 'how do you mean to prove that?'
'Just have a number of peas strewed over the floor of your ante-chamber,' said the Lion, 'and you will soon see. Men have a strong, firm tread, so that if they happen to walk over peas not one will stir, but girls trip, and slip, and slide, so that the peas roll all about.'
The King was pleased with the Lion's advice, and ordered the peas to be strewn in his ante-room.
Fortunately one of the King's servants had become very partial to the young huntsmen, and hearing of the trial they were to be put to, he went to them and said: 'The Lion wants to persuade the King that you are only girls'; and then told them all the plot.
The King's daughter thanked him for the hint, and after he was gone she said to her maidens: 'Now make every effort to tread firmly on the peas.'
Next morning, when the King sent for his twelve huntsmen, and they passed through the ante-room which was plentifully strewn with peas, they trod so firmly and walked with such a steady, strong step that not a single pea rolled away or even so much as stirred. After they were gone the King said to the Lion: 'There now—you have been telling lies—you see yourself they walk like men.'
'Because they knew they were being put to the test,' answered the Lion; 'and so they made an effort; but just have a dozen spinning-wheels placed in the ante-room. When they pass through you'll see how pleased they will be, quite unlike any man.'
The King was pleased with the advice, and desired twelve spinning-wheels to be placed in his ante-chamber.
But the good-natured servant went to the huntsmen and told them all about this fresh plot. Then, as soon as the King's daughter was alone with her maidens, she exclaimed: 'Now, pray make a great effort and don't even look at those spinning-wheels.'
When the King sent for his twelve huntsmen next morning they walked through the ante-room without even casting a glance at the spinning-wheels.
Then the King said once more to the Lion: 'You have deceived me again; they are men, for they never once looked at the spinning-wheels.'
The Lion replied: 'They knew they were being tried, and they did violence to their feelings.' But the King declined to believe in the Lion any longer.
So the twelve huntsmen continued to follow the King, and he grew daily fonder of them. One day whilst they were all out hunting it so happened that news was brought that the King's intended bride was on her way and might soon be expected. When the true bride heard of this she felt as though a knife had pierced her heart, and she fell fainting to the ground. The King, fearing something had happened to his dear huntsman, ran up to help, and began drawing off his gloves. Then he saw the ring which he had given to his first love, and as he gazed into her face he knew her again, and his heart was so touched that he kissed her, and as she opened her eyes, he cried: 'I am thine and thou art mine, and no power on earth can alter that.'
To the other Princess he despatched a messenger to beg her to return to her own kingdom with all speed. 'For,' said he, 'I have got a wife, and he who finds an old key again does not require a new one.'
Thereupon the wedding was celebrated with great pomp, and the Lion was restored to the royal favour, for after all he had told the truth.
---
Grimm.

I dodici cacciatori


C'era una volta il figlio di un re che era fidanzato con una principessa che amava teneramente. Un giorno in cui sedeva assai felice accanto a lei, ricevette la notizia che suo padre era in punto di morte e desiderava cederlo prima che giungesse la fine. Così disse alla sua amata: "Ahimè! Devo andare via e lasciarti, ma prendi questo anello e indossalo in mio ricordo e quando sarò re, ritornerò e ti porterò a casa."
Poi andò via a cavallo e quando raggiunse suo padre, lo trovò mortalmente malato e assai prossimo alla morte.
Il re disse: "Mio carissimo figlio, ho desiderato vederti ancora prima di morire. Promettimi, te ne prego, che ti sposerai secondo i miei desideri." e nominò la figlia del re loro vicino che egli desiderava ansiosamente diventasse la sposa del figlio. Il principe era così annientato dal dolore che pensò di non dir nulla al padre ed esclamò: "Sì, sì, caro padre, esaudirò qualsiasi vostro desiderio." A quel punto il re chiuse gli occhi e morì.
Dopo che il principe fu proclamato re e fosse trascorso il periodo di lutto stabilito, sentì di dover mantenere la promessa fatta al padre, così mandò a chiedere la mano della figlia del re, che gli fu concessa immediatamente.
Dovete sapere che la sua prima fidanzata lo sentì e il pensiero del tradimento dell'amato la rattristò tanto che si struggeva e quasi ne morì. Il padre le disse: "Mia carissima bambina, perché sei così infelice? Se c'è qualcosa che desideri, dillo e io te lo farò avere."
La figlia rifletté un momento e poi disse: "Caro padre, desidero undici ragazze il più possibile simili a me per altezza, età e aspetto."
Il re disse: "Se la cosa è possibile, il tuo desiderio sarà esaudito." e fece cercare nel regno finché trovò undici ragazze dei medesimi altezza, taglia e aspetto della figlia.
Allora la principessa volle che fossero cuciti dodici abiti da cacciatore, tutti perfettamente uguali, e le undici ragazze dovettero indossare gli undici completi mentre lei indossava il dodicesimo. Dopodiché si congedò dal padre e partì a cavallo con le ragazze, diretta alla corte del suo ex innamorato.
Lì chiese se il re avesse bisogno di cacciatori e se volesse prendere tutte loro al proprio servizio. Il re la vide, ma non la riconobbe e siccome gli apparvero giovani dei bell'aspetto, disse: "Sì, li assumerò tutti volentieri." Così diventarono i dodici cacciatori reali.
Si dava il caso che il re avesse un leone assai notevole perché conosceva ogni cosa nascosta o segreta.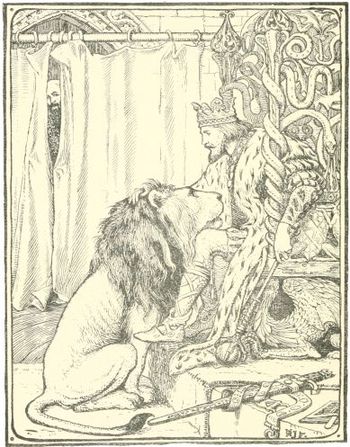 Una sera il leone disse al re: "Così voi pensate di avere assunto dodici cacciatori, vero?"
"Sì, certamente," disse il re "sono dodici cacciatori."
"Siete in errore," disse il leone "sono dodici ragazze."
"Non è possibile," ribatté il re "Come intendi provarlo?"
"Solo spargendo un certo numero di piselli sul pavimento della vostra anticamera," disse il leone "e ben presto vedrete. Gli uomini hanno un passo forte e deciso, così che se accadesse loro di passare sui piselli, non uno si muoverebbe, ma le ragazze inciampano, scivolano e sdrucciolano, così che i piselli rotolano tutt'attorno."
Al re piacque il suggerimento del leone e ordinò che i piselli fossero sparsi nella sua anticamera.
Per fortuna uno dei servi del re aveva una vera e propria predilezione per i giovani cacciatori e, sentendo il tranello che stava per esser teso, andò da loro e disse: "Il leone vuole convincere il re che siete solo ragazze ." e poi svelò loro tutto il piano.
La figlia del re lo ringraziò per il suggerimento e, dopo che se ne fu andato, disse alle ragazze: ""Facciamo ogni sforzo per calpestare con decisione i piselli."
Il mattino seguente, quando il re mandò a chiamare i dodici cacciatori e loro passarono per l'anticamera che era tutta cosparsa di piselli, la calpestarono tanto e camminarono con tali passi decisi e forti che non rotolò via un solo pisello né fu mosso. Dopo che se ne furono andate, il re disse al leone: "Ecco, mi ha detto una bugia… hai visto tu stesso che camminano come uomini."
"Perché sapevano che sarebbero state sottoposte a questa prova," rispose il leone "e così hanno fatto uno sforzo; mettete solo una dozzina di arcolai nell'anticamera e quando passeranno, vedrete quanto ne saranno contente, come nessun uomo lo sarebbe."
Al re piacque questo consiglio e volle che nella sua anticamera fossero collocati dodici arcolai.
Ma il gentile servitore andò dai cacciatori e rivelò il nuovo piano. Allora appena la figlia del re fu sola con le ragazze, esclamò: "Vi prego, fate un grosso sforzo e non guardate neppure quegli arcolai."
Quando il re mandò a chiamare i dodici cacciatori il mattino seguenti, passarono attraverso l'anticamera senza neppure gettare un'occhiata agli arcolai.
Allora il re disse ancora una volta al leone: "Mi hai deluso di nuovo, sono uomini perché non hanno neppure guardato gli arcolai."
Il leone rispose: "Sapevano che sarebbe ro state messe alla prova e hanno fatto violenza ai loro sentimenti." ma il re rifiutò di credere più al leone.
Così i dodici cacciatori continuarono a seguire il re che di giorno in giorno li prendeva sempre più a benvolere. Un giorno in cui erano tutti fuori a caccia, successe che fosse portata la notizia che la futura sposa del re era in viaggio e la si aspettava presto. Quando la vera sposa udì, si sentì come se un coltello le avesse trafitto il cuore e cadde a terra svenuta. Il re, temendo fosse accaduto qualcosa al suo caro cacciatore, corse in suo aiuto e cominciò a liberarla dai guanti. Allora vide l'anello che aveva dato al suo primo amore e quando la guardò in viso, la riconobbe di nuovo e il suo cuore ne fu così toccato che la baciò e, appena lei aprì gli occhi, esclamò:
"Sono tuo e tu sei mia, nessun potere sulla terra potrà mutarlo."
mandò un messaggio all'altra principessa pregandola di tornare nel proprio regno a gran velocità. "Perché" le disse "ho preso moglie e chi trova una vecchia chiave, non ha bisogno di una nuova."
A quel punto furono celebrate le nozze con grande sfarzo e il leone riconquistò il favore del re perché dopotutto aveva detto la verità.
---
Fratelli Grimm


(traduzione dall'inglese di Annarita Verzola)