The Three Snake-Leaves



(MP3-9'09'')
There was once a poor man who could no longer afford to keep his only son at home. So the son said to him, 'Dear father, you are so poor that I am only a burden to you; I would rather go out into the world and see if I can earn my own living.' The father gave him his blessing and took leave of him with much sorrow. About this time the King of a very powerful kingdom was carrying on a war; the youth therefore took service under him and went on the campaign. When they came before the enemy, a battle took place, there was some hot fighting, and it rained bullets so thickly that his comrades fell around him on all sides. And when their leader fell too the rest wished to take to flight; but the youth stepped forward and encouraged them and called out, 'We must not let our country be ruined!' Then others followed him, and he pressed on and defeated the enemy. When the King heard that he had to thank him alone for the victory, he raised him higher than anyone else in rank, gave him great treasures and made him the first in the kingdom.
The King had a daughter who was very beautiful, but she was also very capricious. She had made a vow to marry no one who would not promise her that if she died first, he would allow himself to be buried alive with her. 'If he loves me truly,' she used to say, 'what use would life be to him then?' At the same time she was willing to do the same, and if he died first to be buried with him. This curious vow had up to this time frightened away all suitors, but the young man was so captivated by her beauty, that he hesitated at nothing and asked her hand of her father. 'Do you know,' asked the King, 'what you have to promise?' 'I shall have to go into her grave with her,' he answered, 'if I outlive her, but my love is so great that I do not think of the risk.' So the King consented, and the wedding was celebrated with great splendour.
Now, they lived for a long time very happily with one another, but then it came to pass that the young Queen fell seriously ill, and no doctor could save her. And when she lay dead, the young King remembered what he had promised, and it made him shudder to think of lying in her grave alive, but there was no escape. The King had set guards before all the gates, and it was not possible to avoid his fate.
When the day arrived on which the corpse was to be laid in the royal vault, he was led thither, then the entrance was bolted and closed up.
Near the coffin stood a table on which were placed four candles, four loaves of bread, and four bottles of wine. As soon as this provision came to an end he would have to die. So he sat there full of grief and misery, eating every day only a tiny bit of bread, and drinking only a mouthful of vine, and he watched death creeping nearer and nearer to him. One day as he was sitting staring moodily in front of him, he saw a snake creep out of the corner towards the corpse. Thinking it was going to touch it, he drew his sword and saying, 'As long as I am alive you shall not harm her,' he cut it in three pieces. After a little time a second snake crept out of the corner, but when it saw the first one lying dead and in pieces it went back and came again soon, holding three green leaves in its mouth. Then it took the three bits of the snake and laid them in order, and put one of the leaves on each wound. Immediately the pieces joined together, the snake moved itself and became alive and then both hurried away. The leaves remained lying on the ground, and it suddenly occurred to the unfortunate man who had seen everything, that the wonderful power of the leaves might also be exercised upon a human being.
So he picked up the leaves and laid one of them on the mouth and the other two on the eyes of the dead woman. And scarcely had he done this, before the blood began to circulate in her veins, then it mounted and brought colour back to her white face. Then she drew her breath, opened her eyes, and said, 'Ah! where am I?' 'You are with me, dear lady,' he answered, and told her all that had happened, and how he had brought her to life again. He then gave her some wine and bread, and when all her strength had returned she got up, and they went to the door and knocked and called so loudly that the guards heard them, and told the King.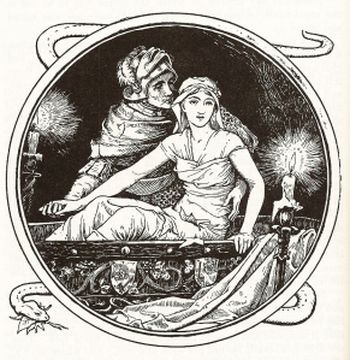 The King came himself to open the door, and there he found both happy and well, and he rejoiced with them that now all trouble was over. But the young King gave the three snake-leaves to a servant, saying to him, 'Keep them carefully for me, and always carry them with you; who knows but that they may help us in a time of need!'
It seemed, however, as if a change had come over the young Queen after she had been restored to life, and as if all her love for her husband had faded from her heart. Some time afterwards, when he wanted to take a journey over the sea to his old father, and they were on board the ship, she forgot the great love and faithfulness he had shown her and how he had saved her from death, and fell in love with the captain. And one day when the young King was lying asleep, she called the captain to her, and seized the head of the sleeping King and made him take his feet, and together they threw him into the sea. When they had done this wicked deed, she said to him, 'Now let us go home and say that he died on the journey. I will praise you so much to my father that he will marry me to you and make you the heir to the throne.' But the faithful servant, who had seen everything, let down a little boat into the sea, unobserved by them, and rowed after his master while the traitors sailed on. He took the drowned man out of the water, and with the help of the three snake-leaves which he carried with him, placing them on his mouth and eyes, he brought him to life again.
They both rowed as hard as they could night and day, and their little boat went so quickly that they reached the old King before the other two did. He was much astonished to see them come back alone, and asked what had happened to them. When he heard the wickedness of his daughter, he said, 'I cannot believe that she has acted so wrongly, but the truth will soon come to light.' He made them both go into a secret chamber, and let no one see them.
Soon after this the large ship came in, and the wicked lady appeared before her father with a very sad face. He said to her, 'Why have you come back alone? Where is your husband?'
'Ah, dear father,' she replied, 'I have come home in great grief; my husband fell ill on the voyage quite suddenly, and died, and if the good captain had not given me help, I should have died too. He was at his death-bed and can tell you everything.'
The King said, 'I will bring the dead to life again,' and he opened the door of the room and called them both out. The lady was as if thunderstruck when she caught sight of her husband; she fell on her knees and begged for mercy. But the King said, 'You shall have no mercy. He was ready to die with you, and restored you to life again; but you killed him when he was sleeping, and shall receive your deserts.'
So she and her accomplice were put in a ship which was bored through with holes, and were drawn out into the sea, where they soon perished in the waves.
---
Grimm.

Le tre foglie del serpente


C'era una volta un pover'uomo che non poteva più permettersi di mantenere a casa il suo unico figlio. Così il figlio un giorno gli disse: "Caro padre, sei così povero che io sono solo un peso per te; me ne andrò per il mondo e vedrò di guadagnarmi da vivere." Il padre lo benedisse e si congedò da lui con gran dolore. Nel frattempo il re di un regno molto potente stava conducendo una guerra; il ragazzo prese servizio sotto di lui e andò in guerra. Quando si trovarono di fronte al nemico, ebbe luogo la battaglia, fu un aspro combattimento, e proiettili piovevano così fitti che i suoi compagni cadevano da ogni parte. Quando anche il loro comandante cadde, i superstiti volevano scappare, ma il ragazzo si fece avanti, li incoraggiò e disse: "Non dobbiamo permettere che il nostro paese vada in rovina!" allora gli altri lo seguirono e incalzarono e sconfissero il nemico. Quando il re sentì che doveva ringraziare solo lui per la vittoria, lo elevò al rango più alto di chiunque altro, gli diede grandi tesori e fece di lui il primo del regno.
Il re aveva una figlia bellissima, ma molto capricciosa. Aveva fatto voto di non sposare nessuno che non le promettesse, se lei fosse morta per prima, di permettere di essere sepolto vivo con lei. "Se mi ama davvero," era solita dire "a che gli servirebbe allora la vita?" nel medesimo tempo si riprometteva di fare la stessa cosa e, se lui fosse morto per primo, farsi seppellire con lui. Questo strano voto fino a quel momento aveva spaventato tutti i corteggiatori, ma il ragazzo fu così stregato dalla sua bellezza che non esitò per nulla a chiederne la mano al padre. Il re gli chiese: "Sai che cosa hai promesso?" "Che andrò nella tomba con lei se le sopravvivrò," rispose il ragazzo "ma il mio amore per lei è così grande che non penso al rischio." così il re acconsentì e le nozze furono celebrate in gran pompa.
Vissero per molto tempo felici insieme, ma poi accadde che la giovane regina di ammalasse gravemente e nessun dottore potesse salvarla. Quando fu morta, il giovane re si rammentò di ciò che aveva promesso e rabbrividì al pensiero di giacere vivo nella tomba con lei. Ma non c'era scampo. Il re aveva messo le guardi davanti a tutti i cancelli e non vi era possibilità di sfuggire al destino.
Quando arrivò il giorno in cui il cadavere doveva essere deposto nella tomba reale, vi fu condotto anche lui e poi l'entrata fu serrata e chiusa.
Vicino alla bara c'era un tavolino su cui erano state poste quattro candele, quattro pagnotte di pane e quattro bottiglie di vino. Appena le sue provviste fossero finite, sarebbe morto. Così sedette pieno di tristezza e di dolore, mangiando ogni giorno solo un pezzettino di pane e bevendo solo una boccata di vino, e vedeva la morte farsi sempre più vicina a lui. Un giorno in cui era seduto a guardare cupamente davanti a sé, vide un serpente strisciare da un angolo verso il cadavere. Pensando che lo volesse mordere, estrasse la spada, dicendo: "Finché sarò vivo, non le farai alcun male." e tagliò il serpente in tre parti. Poco dopo un altro serpente strisciò dall'angolo, ma quando vide il primo che giaceva a pezzi morto, tornò indietro e venne fuori di nuovo portando in bocca tre foglie. Poi prese i tre pezzi del serpente, li mise in ordine e pose una foglia su ogni taglio. Immediatamente i pezzi di riunirono, il serpente si mosse e tornò vivo poi i due animali fuggirono. Le foglie erano rimaste abbandonate sul pavimento e improvvisamente allo sfortunato uomo che aveva visto tutto venne in mente che il meraviglioso potere delle foglie potesse servire anche a una creatura umana.
Così raccolse le foglie e ne mise una sulla bocca e le altre due sugli occhi della donna morta. Lo aveva appena fatto che dapprima il cuore prese a scorrere di nuovo nelle sue vene e poi salì a restituire il colorito al suo viso livido. Allora respirò, aprì gli occhi e disse: "Dove sono?" "Sei con me, mia cara." rispose il marito, e le raccontò tutto ciò che era accaduto e come l'avesse riportata in vita. Le diede un po' di pane e di vino e quando ebbe ritrovato le forze, si sollevò e andarono alla porta a bussare e a chiamare con tanta forza che le guardie li sentirono e lo dissero al re.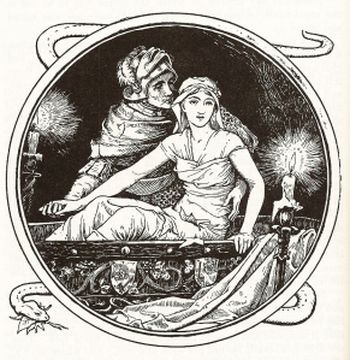 Il re in persona venne ad aprire la porta, trovò entrambi felici e in buona salute e gioì con loro che tutte le tribolazioni fossero finite. Il giovane re diede le foglie a un servo, dicendogli: "Conservale con cura per me e portale sempre con te; chi può sapere che ci possano aiutare ancora in caso di bisogno!"
Però sembrò che fosse avvenuto un cambiamento nella giovane regina dopo che era stata restituita alla vita; era come se l'amore per il marito si fosse spento nel suo cuore. Un po' di tempo dopo, quando egli intraprendere un viaggio sul mare fino dal vecchio padre ed erano a bordo della nave, lei dimenticò il grande amore e la fedeltà che lui le aveva dimostrato e come l'avesse salvata dalla morte e s'innamorò del capitano. Un giorno in cui il giovane re stava dormendo, lei chiamò il capitano poi afferrò la testa del re dormiente e fece prendere a lui i suoi piedi e insieme lo gettarono in mare. Quando ebbero compiuto questo malvagio gesto, la regina disse al capitano: "Adesso torniamo a casa e diremo che è morto in viaggio. Io ti elogerò tanto davanti a mio padre che mi farà sposare te e ti farà erede al trono." ma il fedele servo, che aveva visto tutto, inosservato calò in mare una piccola barca e remò fino a raggiungere il padrone mentre i traditori salpavano. Raccolse dall'acqua l'uomo annegato e con l'aiuto delle tre foglie del serpente che aveva portato con sé, ponendogliele sulla bocca e sugli occhi, lo portò di nuovo in vita.
Entrambi remarono notte e giorno più duramente che poterono e la loro piccola barca andò così in fretta che raggiunsero il vecchio re prima degli altri due. Fu molto stupito di vederli tornare soli e chiesero che cosa fosse accaduto loro. Quando ebbe udito della malvagità della figlia, disse: "Non posso credere che si sia comportata così male, ma la verità verrà presto alla luce." Li fece mettere entrambi in una camera segreta così che nessuno li vedesse.
Poco dopo ciò la grande nave arrivò e e la malvagia dama comparve davanti al padre con viso triste. Lui le disse: "Perché sei tornata sola? Dov'è tuo marito?"
Lei rispose: "Caro padre, sono tornata a casa molto addolorata; mio marito si è ammalato improvvisamente in viaggio ed è morto; se il buon capitano non mi avesse aiutata, sarei morta anch'io. È stato al suo letto di morte e può raccontarti tutto."
Il re disse: "Riporterò di nuovo in vita il morto." e aprì la porta della stanza e li chiamò entrambi. La dama fu come colpita da un fulmine quando vide il marito; gli cadde alle ginocchia e implorò pietà. Ma il re disse: "Non riceverai misericordia. Lui era pronto a morire per te e ti ha restituito di nuovo la vita, ma tu l'hai ucciso mentre dormiva e riceverai ciò che meriti."
Così lei e il suo complice furono messi su una nave che faceva acqua da tutte le parti e furono messi in mare dove ben presto morirono fra le onde.
---
Fratelli Grimm


(traduzione dall'inglese di Annarita Verzola)