A poor man and his wife lived in a little cottage, where they supported themselves by catching fish in the nearest river, and got on as best they could, living from hand to mouth. One day it happened that when the fisherman drew in his net he found in it a remarkable fish, for it was entirely of gold. As he was inspecting it with some surprise, the fish opened its mouth and said: 'Listen to me, fisher; if you will just throw me back into the water I'll turn your poor little cottage into a splendid castle.'
The fisher replied: 'What good, pray, will a castle be to me if I have nothing to eat in it?'
'Oh,' said the gold fish, 'I'll take care of that. There will be a cupboard in the castle, in which you will find dishes of every kind of food you can wish for most.'
'If that's the case,' said the man, 'I've no objection to oblige you.'
'Yes,' observed the fish, 'but there is one condition attached to my offer, and that is that you are not to reveal to a soul where your good fortune comes from. If you say a word about it, it will all vanish.'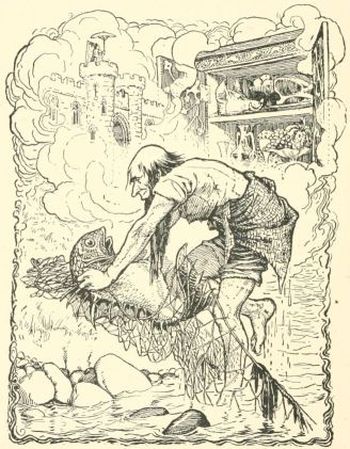 The man threw the fish back into the water, and went home. But on the spot where his cottage used to stand he found a spacious castle. He opened his eyes wide, went in and found his wife dressed out in smart clothes, sitting in a splendidly furnished drawing-room. She was in high spirits, and cried out: 'Oh husband! how can this all have happened? I am so pleased!'
'Yes,' said her husband, 'so am I pleased; but I'm uncommonly hungry, and I want something to eat at once.'
Said his wife, 'I've got nothing, and I don't know where anything is in this new house.'
'Never mind,' replied the man. 'I see a big cupboard there. Suppose you unlock it.'
When the cupboard was opened they found meat, cakes, fruit, and wine, all spread out in the most tempting fashions. The wife clapped her hands with joy, and cried: 'Dear heart! what more can one wish for?' and they sat down and ate and drank.
When they had finished the wife asked, 'But husband, where do all these riches come from?'
'Ah!' said he, 'don't ask me. I dare not tell you. If I reveal the secret to anyone, it will be all up with us.'
'Very well,' she replied, 'if I'm not to be told, of course I don't want to know anything about it.'
But she was not really in earnest, for her curiosity never left her a moment's peace by day or night, and she teazed and worried her husband to such a pitch, that at length he quite lost patience and blurted out that it all came from a wonderful golden fish which he had caught and set free again. Hardly were the words well out of his mouth, when castle, cupboard, and all vanished, and there they were sitting in their poor little fishing hut once more.
The man had to betake himself to his former trade, and set to fishing again. As luck would have it, he caught the golden fish a second time.
'Now listen,' said the fish, 'if you'll throw me back into the water, I'll give you back the castle and the cupboard with all its good things; but now take care, and don't for your life betray where you got them, or you'll just lose them again.'
'I'll be very careful,' promised the fisher, and threw the fish back into the water. When he went home he found all their former splendour restored, and his wife overjoyed at their good fortune. But her curiosity still continued to torment her, and after restraining it with a great effort for a couple of days, she began questioning her husband again, as to what had happened, and how he had managed.
The man kept silence for some time, but at last she irritated him so much that he burst out with the secret, and in one moment the castle was gone, and they sat once more in their wretched old hut.
'There!' exclaimed the man, 'you would have it—now we may just go on short commons.'
'Ah!' said his wife, 'after all I'd rather not have all the riches in the world if I can't know where they come from—I shall not have a moment's peace.'
The man took to his fishing again, and one day fate brought the gold fish into his net for the third time. 'Well,' said the fish, 'I see that I am evidently destined to fall into your hands. Now take me home, and cut me into six pieces. Give two bits to your wife to eat, two to your horse, and plant the remaining two in your garden, and they will bring you a blessing.'
The man carried the fish home, and did exactly as he had been told. After a time, it came to pass that from the two pieces he had planted in the garden two golden lilies grew up, and that his horse had two golden foals, whilst his wife gave birth to twin boys who were all golden.
The children grew up both tall and handsome, and the foals and the lilies grew with them.
One day the children came to their father and said, 'Father, we want to mount on golden steeds, and ride forth to see the world.'
Their father answered sadly, 'How can I bear it if, when you are far away, I know nothing about you?' and they said, 'The golden lilies will tell you all about us if you look at them. If they seem to droop, you will know we are ill, and if they fall down and fade away, it will be a sign we are dead.'
So off they rode, and came to an inn where were a number of people who, as soon as they saw the two golden lads, began to laugh and jeer at them. When one of them heard this, his heart failed him, and he thought he would go no further into the world, so he turned back and rode home to his father, but his brother rode on till he reached the outskirts of a huge forest. Here he was told, 'It will never do for you to ride through the forest, it is full of robbers, and you're sure to come to grief, especially when they see that you and your horse are golden. They will certainly fall on you and kill you.' However, he was not to be intimidated, but said, 'I must and will ride on.'
So he procured some bears' skins, and covered himself and his horse with them, so that not a particle of gold could be seen, and then rode bravely on into the heart of the forest.
When he had got some way he heard a rustling through the bushes and presently a sound of voices. Someone whispered on one side of him: 'There goes someone,' and was answered from the other side: 'Oh, let him pass. He's only a bear-keeper, and as poor as any church mouse.' So golden lad rode through the forest and no harm befell him.
One day he came to a village, where he saw a girl who struck him as being the loveliest creature in the whole world, and as he felt a great love for her, he went up to her and said: 'I love you with all my heart; will you be my wife?' And the girl liked him so much that she put her hand in his and replied: 'Yes, I will be your wife, and will be true to you as long as I live.'
So they were married, and in the middle of all the festivities and rejoicings the bride's father came home and was not a little surprised at finding his daughter celebrating her wedding. He enquired: 'And who is the bridegroom?'
Then someone pointed out to him the golden lad, who was still wrapped up in the bear's skin, and the father exclaimed angrily: 'Never shall a mere bear-keeper have my daughter,' and tried to rush at him and kill him. But the bride did all she could to pacify him, and begged hard, saying: 'After all he is my husband, and I love him with all my heart,' so that at length he gave in.
However, he could not dismiss the thought from his mind, and next morning he rose very early, for he felt he must go and look at his daughter's husband and see whether he really was nothing better than a mere ragged beggar. So he went to his son-in-law's room, and who should he see lying in the bed but a splendid golden man, and the rough bearskin thrown on the ground close by. Then he slipped quietly away, and thought to himself, 'How lucky that I managed to control my rage! I should certainly have committed a great crime.'
Meantime the golden lad dreamt that he was out hunting and was giving chase to a noble stag, and when he woke he said to his bride: 'I must go off and hunt.' She felt very anxious, and begged he would stay at home, adding: 'Some mishap might so easily befall you,' but he answered, 'I must and will go.'
So he went off into the forest, and before long a fine stag, such as he had seen in his dream, stopped just in front of him. He took aim, and was about to fire when the stag bounded away. Then he started off in pursuit, making his way through bushes and briars, and never stopped all day; but in the evening the stag entirely disappeared, and when golden lad came to look about him he found himself just opposite a hut in which lived a witch. He knocked at the door, which was opened by a little old woman who asked, 'What do you want at this late hour in the midst of this great forest?'
He said, 'Haven't you seen a stag about here?'
'Yes,' said she, 'I know the stag well,' and as she spoke a little dog ran out of the house and began barking and snapping at the stranger.
'Be quiet, you little toad,' he cried, 'or I'll shoot you dead.'
Then the witch flew into a great rage, and screamed out, 'What! you'll kill my dog, will you?' and the next moment he was turned to stone and lay there immovable, whilst his bride waited for him in vain and thought to herself, 'Alas! no doubt the evil I feared, and which has made my heart so heavy, has befallen him.'
Meantime, the other brother was standing near the golden lilies at home, when suddenly one of them bent over and fell to the ground. 'Good heavens!' cried he, 'some great misfortune has befallen my brother. I must set off at once; perhaps I may still be in time to save him.'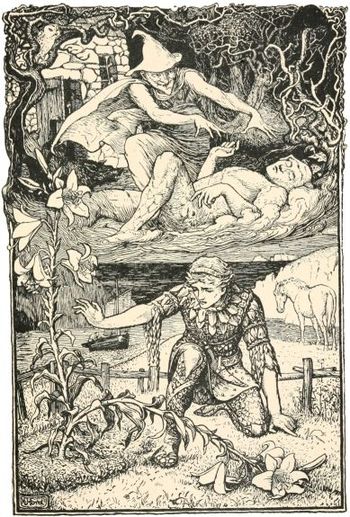 His father entreated him, 'Stay at home. If I should lose you too, what would become of me?'
But his son replied, 'I must and will go.'
Then he mounted his golden horse, and rode off till he reached the forest where his brother lay transformed to stone. The old witch came out of her house and called to him, for she would gladly have cast her spells on him too, but he took care not to go near her, and called out: 'Restore my brother to life at once, or I'll shoot you down on the spot.'
Reluctantly she touched the stone with her finger, and in a moment it resumed its human shape. The two golden lads fell into each other's arms and kissed each other with joy, and then rode off together to the edge of the forest, where they parted, one to return to his old father, and the other to his bride.
When the former got home his father said, 'I knew you had delivered your brother, for all of a sudden the golden lily reared itself up and burst into blossom.'
Then they all lived happily to their lives' ends, and all things went well with them.
---
Grimm.

I ragazzi d'oro


Un pover'uomo e sua moglie vivevano in una casetta e si sostentavano pescando nel fiume vicino e, per quanto facessero del loro meglio, vivevano alla giornata. Un giorno capitò che quando il pescatore tirò su la rete, vi trovò un pesce eccezionale perché era tutto d'oro. Mentre lo stava guardando con una certa sorpresa, il pesce aprì la bocca e disse: "Ascoltami, pescatore, se mi getterai in acqua, io trasformerò la tua povera casetta in uno splendido castello."
Il pescatore rispose: "Scusa, a che mi serve un castello se dentro non ho nulla da mangiare?"
Il pesce d'oro rispose: "Me ne occuperò io. Nel castello ci sarà un a credenza nella quale troverai piatti con ogni genere di cibo tu possa maggiormente desiderare."
L'uomo disse: "In questo caso non ho obiezioni a farti questo favore."
Il pesce osservò: "Sì, ma la mia offerta ha una condizione, ed è che tu non riveli ad anima viva da dove provenga la tua fortuna. Se dirai una parola, tutto svanirà."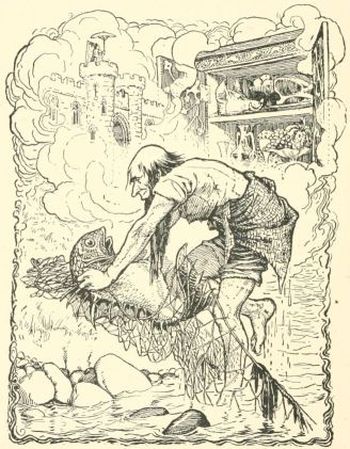 L'uomo gettò di nuovo il pesce in acqua e tornò a casa. Al posto della solita casetta trovò un castello spazioso. Spalancò gli occhi, entrò e vide la moglie abbigliata con eleganza, seduta in una sala da pranzo splendidamente arredata. Era di ottimo umore ed esclamò: "Marito mio! Come può essere accaduto tutto ciò? Sono così contenta!"
Il marito rispose: "Sono contento anche io, ma eccezionalmente affamato e voglio subito qualcosa da mangiare."
La moglie disse: "Non ho preparato niente e non so dove sia qualsiasi cosa in questa nuova casa."
Quando fu aperta la credenza, trovarono carne, frutta, vino tutti presentati nel più invitante dei modi. La moglie batté le mani per la contentezza ed esclamò: "Santo cielo! Che cosa si potrebbe desiderare di più?" e sedettero a mangiare e a bere.
Quando ebbero finito, la moglie chiese: "Marito, da dove provengono tutte queste ricchezze?"
Lui rispose: "Non me lo chiedere, non oso dirtelo. Se rivelassi il segreto a qualcuno, tutto questo ci sarebbe tolto."
La moglie rispose: "Mi sta bene, se non si deve dire, non voglio sapere niente altro al riguardo."
Ma non era del tutto onesta perché la curiosità non le dava tregua né di giorno né di notte e lei prese in giro il marito e lo angustiò a tal punto che alla fine egli perse la pazienza e spiattellò che tutto veniva da un meraviglioso pesce d'oro che aveva catturato e lasciato di nuovo libero. Queste parole gli erano appena uscite di bocca che il castello, la credenza e tutto il resto svanirono e loro si trovarono seduti ancora una volta nella loro povera casetta di pescatori.
L'uomo dovette riprendere il vecchio lavoro e andò di nuovo a pescare. Ebbe la fortuna di pescare il pesce d'oro una seconda volta.
Il pesce disse: "Ascoltami, se mi getterai di nuovo in acqua, ti restituirò il castello e la credenza con tutte quelle cose buone, ma stavolta bada bene di non rivelare per niente al mondo da dove provengono o li perderai di nuovo."
L'uomo promise: "Starò molto attento." e gettò di nuovo il pesce nell'acqua. Quando tornò a casa scoprì che tutto era tornato al precedente sfarzo e sua moglie fu contenta della loro grande fortuna. Ma la curiosità continuava a tormentarla e dopo averla tenuta a bada per un paio di giorni, cominciò a chiedere di nuovo al marito come fosse accaduto e come ci fosse riuscito.
L'uomo rimase in silenzio per un po' di tempo, ma alla fine lei lo irritò tanto che rivelò il segreto e in un attimo il castello sparì ed essi sedettero ancora una volta nella vecchia casetta malridotta.
L'uomo esclamò: "Ecco fatto! Dovevi saperlo... adesso siamo tornati gente qualunque."
La moglie disse: "Dopo tutto preferisco non possedere ricchezze, se non so da dove vengano… non avrei saputo darmi un attimo di pace."
L'uomo ricominciò a pescare e un giorno il destino volle che il pesce d0oro finisse per la terza volta nella sua rete. Il pesce disse: "Ebbene, vedo che sono evidentemente destinato a finire nelle tue mani. Portami a casa e tagliami in sei pezzi. Danne due da mangiare a tua moglie, due alla tua cavalla e sotterra i restanti due in giardino e ti porteranno una benedizione."
L'uomo portò a casa il pesce fece esattamente come gli era stato detto. Dopo un po' di tempo avvenne che i due pezzi che dai due pezzi aveva sepolto in giardino nacquero due gigli d'oro, la sua cavalla ebbe due puledri d'oro e a sua moglie nacquero due gemelli che erano tutti d'oro.
I bambini crebbero entranti ali e belli e i puledri e i gigli crescevano con loro.
Un giorno i ragazzi andarono dal padre e disse: "Padre, vogliamo montare i puledri d'oro e andare in giro a vedere il mondo."
Il padre rispose tristemente: "Come potrò sopportare di non sapere nulla di voi quando sarete via?" e loro risposero: "I gigli d'oro ti diranno di noi, se li guarderai. Se sembreranno reclinarsi, vorrà dire che saremo malati e se cadranno e appassiranno, sarà segno che saremo morti."
Così se ne andarono a cavallo e giunsero in una locanda in cui c'era molta gente che, appena vide i due ragazzi d'oro, cominciò a ridere e a prendersi gioco di loro. Udendo ciò, uno dei due si perse d0animo e pensò che non avrebbe più voluto andare in giro per il mondo, così voltò il cavallo e tornò a casa dal padre, ma il fratello proseguì finché raggiunse i margini di un'immensa foresta. Lì gli fu detto: "Non devi passare a cavallo nella foresta, è piena di ladri e di certo ti farai del male, specialmente quando vedranno che tu e il tuo cavallo siete d'oro. Certamente si getteranno su di te e ti uccideranno. "Lui non ne fu affatto spaventato e disse: "Devo proseguire e lo farò."
Così si procurò alcune pelli d'orso con le quali coprì se stesso e il cavallo così che non si vedesse la minima parte d'oro e cavalcò coraggiosamente nel cuore della foresta.
Quando ebbe percorso un po' di strada, sentì un fruscio tra i cespugli e e poi un suono di voci. Qualcuno sussurrava accanto a lui: "Sta arrivando qualcuno" e la risposta dall'altro lato fu. "Lasciamolo passare. È solo un tizio vestito di pelle d'orso ed è povero come un topo in chiesa. " Così il ragazzo d'oro passò a cavallo per la foresta e non gli accadde nulla di male.
Un giorno giunse in un villaggio nel quale vide una ragazza che lo colpì perché era la creatura più bella del mondo e siccome se n0era innamorato, andò da lei e le disse. "Ti amo con tutto il cuore, vuoi diventare mia moglie?" Alla ragazza lui piacque tanto che mi se la mano nella sua e rispose: "Sì, sarò tua moglie e ti sarò fedele per tutta la vita."
Così si sposarono e nel bel mezzo dei festeggiamenti e della contentezza il padre della sposa tornò a casa e fu non poco sorpreso nel trovare la figlia che celebrava le nozze. Chiese: "Chi è lo sposo?"
Allora qualcuno gli indicò il ragazzo d'oro, che era ancora avvolto nella pelle d'orso, e il padre esclamò rabbiosamente: "Non sia mai che uno vestito di pelle d'orso abbia mia figlia." e tentò di gettarsi su di lui per ucciderlo. Ma la sposa fece tutto il possibile per rabbonirlo e lo implorò dicendo: "Dopotutto è mio marito e lo amo con tutto il cuore." così che alla fine egli si calmò.
In ogni modo non poteva allontanare quel pensiero dalla mente e la mattina seguente si alzò molto presto perché sentiva di dover andare a guardare il marito della figlia e vedere se davvero fosse un povero straccione. Così andò nella camera del genero e ciò che vide nel letto fu uno splendido uomo d'oro e la rozza pelle d'orso gettata per terra lì vicino. Allora sgattaiolò via in silenzio e pensò: 'Come sono stato fortunato a controllare la collera! Di certo avrei commesso un grosso crimine."
Nel frattempo il ragazzo d'oro aveva sognato di andare a caccia e di inseguire un maestoso cervo e quando si svegliò, disse alla moglie: "Devo andare a caccia." lei divenne molto ansiosa e lo pregò di restare a casa, aggiungendo: "Ti potrebbe accadere facilmente una disgrazia." ma lui rispose: "Devo andare e andrò."
Così andò nella foresta e dopo un po' si fermò di fronte a lui un bel cervo, proprio come lo aveva visto in sogno. Prese la mira e stava per sparare al cervo quando esso scappò. Si gettò all'inseguimento, facendosi strada tra i cespugli e i rovi e non si fermò tutto il giorno; la sera il cervo era sparito del tutto e quando il ragazzo d'oro si guardò attorno, vide di fronte a sé una casetta in cui viveva una strega. Bussò alla porta, che fu aperta da una vecchietta la quale chiese: "Che cosa vuoi a quest'ora così tarda nel mezzo della grande foresta?"
Lui disse: "Non avete visto qui un cervo?"
"La vecchia rispose: "Sì, conosco bene il cervo." e mentre parlava, un cagnolino corse fuori dalla casa e cominciò ad abbaiare e ad azzannare il forestiero.
"Stai buono, piccolo rospo," gridò il ragazzo "o ti ucciderò"
Allora la strega si arrabbiò e strillò: "Che cosa, tu vorresti uccidere il mio cane?" e un momento dopo il ragazzo era stato trasformato in pietra e stava là immobile mentre sua moglie lo aspettava invano e pensava: 'Ahimè, senza dubbio gli è accaduto qualcosa di male come temevo e per questo il mio cuore è così pesante.'
Nel frattempo l'altro fratello era a casa vicino ai gigli d'oro quando improvvisamente uno di essi si afflosciò e cadde a terra. "Santo cielo" esclamò il ragazzo "Deve essere accaduta una grave disgrazia a mio fratello: devo partire subito e forse arriverò in tempo per salvarlo."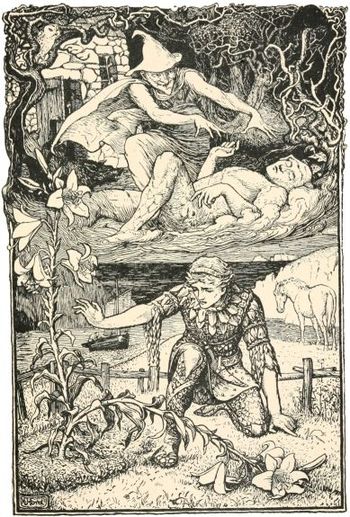 Il padre lo implorò: "Resta a casa. Se perdessi anche te, che ne sarebbe di me?"
Ma il figlio rispose: "Devo andare e andrò."
Poi montò sul cavallo d'oro e cavalcò finché raggiunse la foresta nella quale il fratello era stato trasformato in pietra. La vecchia strega venne fuori di casa e lo chiamò perché avrebbe gettato volentieri l'incantesimo anche su di lui, ma lui badò bene di non avvicinarsi a lei e gridò: "Restituisci alla vita mio fratello o ti ucciderò all'istante."
Riluttante lei toccò la pietra con un dito e in un attimo il ragazzo riacquistò l'aspetto umano. I due ragazzi d'oro si gettarono l'uno nelle braccia dell'altro e si baciarono a vicenda con gioia, poi tornarono insieme a cavallo al margine della foresta dove si separarono, uno per tornare dal vecchio padre e l'altro dalla moglie.
Quando il primo tornò a casa, il padre disse: "sapevo che avevi liberato tuo fratello perché all'improvviso il giglio si è risollevato ed è rifiorito."
Così tutti vissero felici fino alla fine dei loro giorni e tutto andò bene per loro.
---
Fratelli Grimm




---
(traduzione dall'inglese di Annarita Verzola)