There was once upon a time a shepherd who had two children, a son and a daughter. When he was on his death-bed he turned to them and said, 'I have nothing to leave you but three sheep and a small house; divide them between you, as you like, but don't quarrel over them whatever you do.'
When the shepherd was dead, the brother asked his sister which she would like best, the sheep or the little house; and when she had chosen the house he said, 'Then I'll take the sheep and go out to seek my fortune in the wide world. I don't see why I shouldn't be as lucky as many another who has set out on the same search, and it wasn't for nothing that I was born on a Sunday.'
And so he started on his travels, driving his three sheep in front of him, and for a long time it seemed as if fortune didn't mean to favour him at all. One day he was sitting disconsolately at a cross road, when a man suddenly appeared before him with three black dogs, each one bigger than the other.
'Hullo, my fine fellow,' said the man, 'I see you have three fat sheep. I'll tell you what; if you'll give them to me, I'll give you my three dogs.'
In spite of his sadness, the youth smiled and replied, 'What would I do with your dogs? My sheep at least feed themselves, but I should have to find food for the dogs.'
'My dogs are not like other dogs,' said the stranger; 'they will feed you instead of you them, and will make your fortune. The smallest one is called "Salt," and will bring you food whenever you wish; the second is called "Pepper," and will tear anyone to pieces who offers to hurt you; and the great big strong one is called "Mustard," and is so powerful that it will break iron or steel with its teeth.'
The shepherd at last let himself be persuaded, and gave the stranger his sheep. In order to test the truth of his statement about the dogs, he said at once, 'Salt, I am hungry,' and before the words were out of his mouth the dog had disappeared, and returned in a few minutes with a large basket full of the most delicious food. Then the youth congratulated himself on the bargain he had made, and continued his journey in the best of spirits.
One day he met a carriage and pair, all draped in black; even the horses were covered with black trappings, and the coachman was clothed in crape from top to toe. Inside the carriage sat a beautiful girl in a black dress crying bitterly. The horses advanced slowly and mournfully, with their heads bent on the ground.
'Coachman, what's the meaning of all this grief?' asked the shepherd.
At first the coachman wouldn't say anything, but when the youth pressed him he told him that a huge dragon dwelt in the neighbourhood, and required yearly the sacrifice of a beautiful maiden. This year the lot had fallen on the King's daughter, and the whole country was filled with woe and lamentation in consequence.
The shepherd felt very sorry for the lovely maiden, and determined to follow the carriage. In a little it halted at the foot of a high mountain. The girl got out, and walked slowly and sadly to meet her terrible fate. The coachman perceived that the shepherd wished to follow her, and warned him not to do so if he valued his life; but the shepherd wouldn't listen to his advice. When they had climbed about half-way up the hill they saw a terrible-looking monster with the body of a snake, and with huge wings and claws, coming towards them, breathing forth flames of fire, and preparing to seize its victim. Then the shepherd called, 'Pepper, come to the rescue,' and the second dog set upon the dragon, and after a fierce struggle bit it so sharply in the neck that the monster rolled over, and in a few moments breathed its last. Then the dog ate up the body, all except its two front teeth, which the shepherd picked up and put in his pocket.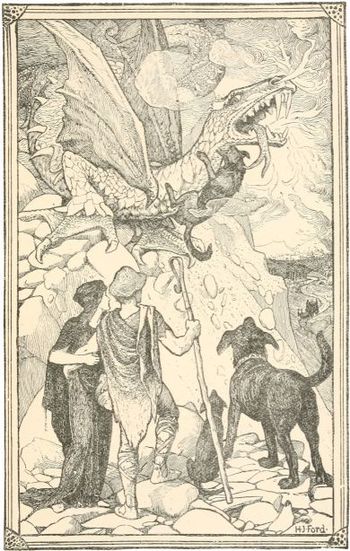 The Princess was quite overcome with terror and joy, and fell fainting at the feet of her deliverer. When she recovered her consciousness she begged the shepherd to return with her to her father, who would reward him richly. But the youth answered that he wanted to see something of the world, and that he would return again in three years, and nothing would make him change this resolve. The Princess seated herself once more in her carriage, and, bidding each other farewell, she and the shepherd separated, she to return home, and he to see the world.
But while the Princess was driving over a bridge the carriage suddenly stood still, and the coachman turned round to her and said, 'Your deliverer has gone, and doesn't thank you for your gratitude. It would be nice of you to make a poor fellow happy; therefore you may tell your father that it was I who slew the dragon, and if you refuse to, I will throw you into the river, and no one will be any the wiser, for they will think the dragon has devoured you.'
The maiden was in a dreadful state when she heard these words; but there was nothing for her to do but to swear that she would give out the coachman as her deliverer, and not to divulge the secret to anyone. So they returned to the capital, and everyone was delighted when they saw the Princess had returned unharmed; the black flags were taken down from all the palace towers, and gay- coloured ones put up in their place, and the King embraced his daughter and her supposed rescuer with tears of joy, and, turning to the coachman, he said, 'You have not only saved the life of my child, but you have also freed the country from a terrible scourge; therefore, it is only fitting that you should be richly rewarded. Take, therefore, my daughter for your wife; but as she is still so young, do not let the marriage be celebrated for another year.'
The coachman thanked the King for his graciousness, and was then led away to be richly dressed and instructed in all the arts and graces that befitted his new position. But the poor Princess wept bitterly, though she did not dare to confide her grief to anyone. When the year was over, she begged so hard for another year's respite that it was granted to her. But this year passed also, and she threw herself at her father's feet, and begged so piteously for one more year that the King's heart was melted, and he yielded to her request, much to the Princess's joy, for she knew that her real deliverer would appear at the end of the third year. And so the year passed away like the other two, and the wedding-day was fixed, and all the people were prepared to feast and make merry.
But on the wedding-day it happened that a stranger came to the town with three black dogs. He asked what the meaning of all the feasting and fuss was, and they told him that the King's daughter was just going to be married to the man who had slain the terrible dragon. The stranger at once denounced the coachman as a liar; but no one would listen to him, and he was seized and thrown into a cell with iron doors.
While he was lying on his straw pallet, pondering mournfully on his fate, he thought he heard the low whining of his dogs outside; then an idea dawned on him, and he called out as loudly as he could, 'Mustard, come to my help,' and in a second he saw the paws of his biggest dog at the window of his cell, and before he could count two the creature had bitten through the iron bars and stood beside him. Then they both let themselves out of the prison by the window, and the poor youth was free once more, though he felt very sad when he thought that another was to enjoy the reward that rightfully belonged to him. He felt hungry too, so he called his dog 'Salt,' and asked him to bring home some food. The faithful creature trotted off, and soon returned with a table-napkin full of the most delicious food, and the napkin itself was embroidered with a kingly crown.
The King had just seated himself at the wedding-feast with all his Court, when the dog appeared and licked the Princess's hand in an appealing manner. With a joyful start she recognised the beast, and bound her own table-napkin round his neck.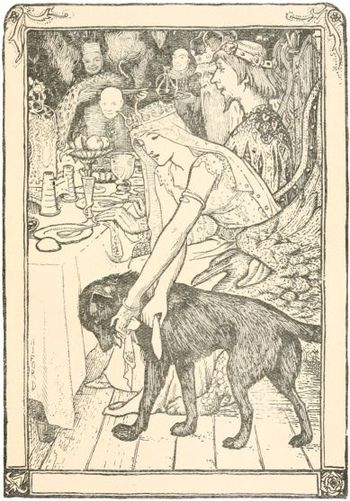 Then she plucked up her courage and told her father the whole story. The King at once sent a servant to follow the dog, and in a short time the stranger was led into the Kings presence. The former coachman grew as white as a sheet when he saw the shepherd, and, falling on his knees, begged for mercy and pardon. The Princess recognized her deliverer at once, and did not need the proof of the two dragon's teeth which he drew from his pocket. The coachman was thrown into a dark dungeon, and the shepherd took his place at the Princess's side, and this time, you may be sure, she did not beg for the wedding to be put off.
The young couple lived for some time in great peace and happiness, when suddenly one day the former shepherd bethought himself of his poor sister and expressed a wish to see her again, and to let her share in his good fortune. So they sent a carriage to fetch her, and soon she arrived at the court, and found herself once more in her brother's arms. Then one of the dogs spoke and said, 'Our task is done; you have no more need of us. We only waited to see that you did not forget your sister in your prosperity.' And with these words the three dogs became three birds and flew away into the heavens.
---
Grimm.

I tre cani


C'era una volta un pastore che aveva due figli, un maschio e una femmina. Quando fu sul letto di morte, si rivolse a loro e disse: "Non ho niente da lasciarvi tranne tre pecore e una casetta; dividetele tra di voi, come preferite, ma non litigare per queste cose, qualunque cosa voi facciate."
Quando il pastore fu morto, il fratello chiese alla sorella che le sarebbe piaciuto di più le pecore o la casetta e quando lei scelse la casa, disse: "Allora prenderò le pecore e andrò a in cerca di fortuna nel vasto mondo. Non vedo perché non dovrei essere così fortunato come molti altri che hanno intrapreso la stessa ricerca, e poi vorrà dire qualcosa che io sia nato di domenica. "
E così iniziò a viaggiare, guidando le tre pecore avanti a sé, e per molto tempo sembrò che la fortuna non volesse affatto favorirlo. Un giorno era seduto sconsolatamente a un incrocio quando un uomo apparve improvvisamente davanti a lui con tre cani neri, uno più grande dell'altro.
"Salve, mio buon amico," disse l'uomo, "vedo che hai tre pecore grasse. Ti dirò una cosa; se me le darai, ti darò i miei tre cani."
Nonostante la tristezza, il giovane sorrise e rispose: "Cosa potrei farmene dei tuoi cani? Almeno le pecore si nutrono da sole, e invece dovrei trovare cibo per i cani. "
"I miei cani non sono come gli altri," disse lo straniero  "nutriranno invece te e faranno la tua fortuna. Il più piccolo si chiama "Sale" e ti porterà cibo ogni volta che desideri; il secondo si chiama "Peppe" e farà a pezzi chiunque checerchi di farti del male; quello grande e forte si chiama "Senape" ed è così potente che spezzerà il ferro o l'acciaio con i denti ".
Alla fine il pastore si lasciò persuadere e diede allo straniero le pecore. Per provare la verità della sua affermazione sui cani, disse subito: "Sale, ho fame", e prima che le parole uscissero dalla sua bocca il cane era scomparso e tornato in pochi minuti con un grande cesto pieno del cibo più delizioso. Poi il giovane si congratulò con sé stesso per l'affare che aveva concluso, e continuò il suo viaggio con la miglior disposizione d'animo.
Un giorno incontrò una carrozza e una coppia, tutti in nero; anche i cavalli erano coperti di bardature nere, e il cocchiere era vestito di crespo dalla testa ai piedi. Dentro la carrozza sedeva una bella ragazza in abito nero che piangeva amaramente. I cavalli avanzavano lentamente e mestamente, con la testa piegata a terra.
"Cocchiere, che cosa significato tutto questo dolore?" chiese il pastore.
All'inizio il cocchiere non disse nulla, ma quando il giovane insistette, gli disse che un enorme drago abitava nel vicinato e richiedeva annualmente il sacrificio di una bella fanciulla. Quest'anno la sorte era caduta sulla figlia del re e di conseguenza l'intero paese era tutto un dolore e un lamento.
Il pastore fu molto dispiaciuto per la bella fanciulla e decise di seguire la carrozza. Poco dopo fermò ai piedi di un'alta montagna. La ragazza scese e camminò lentamente e tristemente per incontrare il suo terribile destino. Il cocchiere si accorse che il pastore desiderava seguirla e lo avvertì di non farlo, se ci teneva alla vita; ma il pastore non ascoltò il suo consiglio. Quando furono saliti a circa metà della collina, videro un mostro dall'aria terribile con il corpo di un serpente, e con enormi ali e artigli, che veniva verso di loro, alitando fiamme di fuoco e preparandosi a catturare la sua vittima. Allora il pastore gridò "Pepe, vieni in soccorso", e il secondo cane assalì il drago e dopo una feroce lotta lo morse così forte sul collo che il mostro rotolò, e in pochi attimi esalò l'ultimo respiro. Poi il cane mangiò il corpo del drago, tutti tranne i due denti anteriori, che il pastore raccolse e mise in tasca.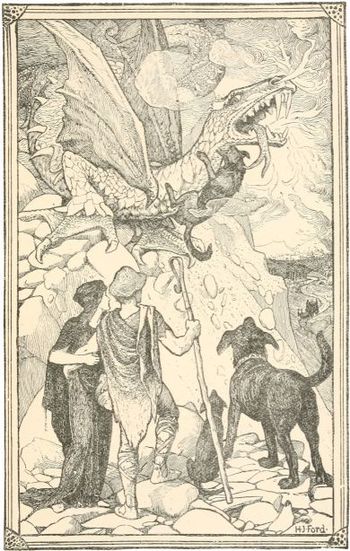 La Principessa era completamente sopraffatta dal terrore e dalla gioia, e cadde svenuta ai piedi del suo salvatore. Quando riprese conoscenza, pregò il pastore di tornare con lei da suo padre, che lo avrebbe ricompensato generosamente. Ma il giovane risposeche voleva vedere qualcosa del mondo, che sarebbe tornato di nuovo tra tre anni e nulla avrebbe potuto fargli cambiare questa decisione. La Principessa si sedette ancora una volta nella sua carrozza e, salutandosi l'un l'altra, lei e il pastore si separarono, la principessa per tornare a casa e lui per vedere il mondo.
Ma mentre la Principessa stava passando su un ponte, la carrozza si fermò improvvisamente e il cocchiere li girò verso di lei e disse: "Il tuo salvatore se n'è andato, e non ti ha ringraziata per la tua gratitudine. Sarebbe bello da parte tua rendere felice un povero ragazzo perciò potresti dire a tuo padre che sono stato io a uccidere il drago; se ti rifiuti, ti butterò nel fiume, e nessuno lo saprà, perché penseranno che il drago ti abbia divorata."
La ragazza s'impaurì quando sentì queste parole, ma non poté fare altro che giurare di proclamare che il cocchiere fosse stato il suo salvatore e di non rivelare il segreto a nessuno. Così tornarono nella capitale, e tutti furono felici quando videro che la Principessa era tornata incolume; le bandiere nere furono calate da tutte le torri del palazzo e al loro posto furono issate quelle di colori vivaci, poi il Re abbracciò con lacrime di gioia la figlia e il suo presunto salvatore e, rivolgendosi al cocchiere, disse: "Tu non solo ho salvato la vita di mia figlia, ma hai anche liberato il paese da una terribile piaga pertanto, è giusto che tu sia riccamente ricompensato. Prendi dunque mia figlia in moglie; ma siccome lei è ancora così giovane, non permetterò che il matrimonio sia celebrato prima di un anno."
Il cocchiere ringraziò il re per la sua cortesia e fu poi portato via per essere riccamente vestito e istruito in tutte le arti e i comportamenti che si addicevano alla sua nuova posizione. Ma la povera principessa pianse amaramente, sebbene non osasse confidare il suo dolore a nessuno. Quando l'anno fu finito, lei implorò così intensamente un altro anno che le fu concesso. Ma anche questo anno passò e si gettò ai piedi di suo padre, e implorò in modo così pietoso un altro anno che il cuore del Re si sciolse e cedette alla sua richiesta, con grande gioia della Principessa perché sapeva che il suo vero salvatore sarebbe comparso alla fine del terzo anno. E così l'anno finì come gli altri due e il giorno del matrimonio fu fissato, mentre tutta la gente era pronta a banchettare e festeggiare.
Ma nel giorno del matrimonio accadde che uno sconosciuto arrivasse in città con tre cani neri. Chiese quale fosse il significato del banchetto e del trambusto, e gli dissero che la figlia del Re stava per sposarsi con l'uomo che aveva ucciso il terribile drago. Lo straniero accusò subito il cocchiere di essere un bugiardo, ma nessuno lo ascoltò, e fu preso e gettato in una cella con le porte di ferro.
Mentre giaceva sul pagliericcio, meditando tristemente sul proprio destino, pensò di udire il profondo mugolio dei suoi cani all'esterno poi gli balenò un'idea e chiamò più forte che poté, "Senape, vieni in mio aiuto," e in un attimo vide le zampe del cane più grosso alla finestra della sua cella, e prima che potesse contare fino a due, la creatura aveva morso le sbarre di ferro ed era accanto a lui. Poi entrambi uscirono dalla prigione attraverso la finestra e il povero ragazzo fu di nuovo libero, anche se si sentiva molto triste quando pensava che un altro avrebbe goduto della ricompensa che gli spettava giustamente. Aveva anche fame, così chiamò il suo cane "Sale" e gli chiese di portare a casa del cibo. La fedele creatura trotterellò via e presto tornò con un tovagliolo pieno del cibo più delizioso,
Il re si era appena seduto al banchetto di nozze con tutta la sua corte, quando il cane apparve e leccò la mano della principessa con aria supplichevole. Con un sussulto di gioia riconobbe l'animale e glii legò il tovagliolo al collo.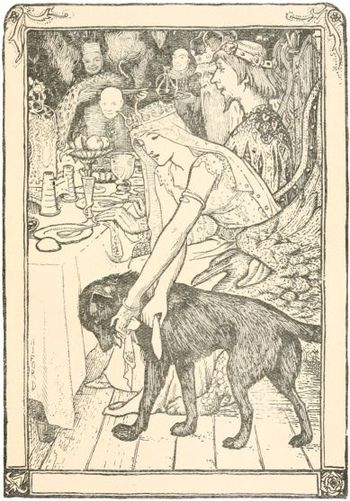 Poi si fece coraggio e raccontò a suo padre tutta la storia. Il re mandò subito un servo a seguire il cane e in poco tempo lo straniero fu condotto nella presenza dei re. L'ex cocchiere si fece bianco come un lenzuolo quando vide il pastore e, cadendo in ginocchio, implorò pietà e perdono. La principessa riconobbe subito il suo liberatore e non ebbe bisogno della prova dei due denti di drago che tirò fuori dalla tasca. Il cocchiere fu gettato in una buia segreta e il pastore prese il suo posto al fianco della principessa, e questa volta, potete starne certi, lei non implorò perché il matrimonio fosse rimandato.
La giovane coppia visse per qualche tempo in grande pace e felicità, quando improvvisamente un giorno l'ex pastore si rammentò della povera sorella e espresse il desiderio di rivederla, e di farla partecipe della propria fortuna. Così mandarono una carrozza a prenderla, e lei arrivò presto a corte e si trovò ancora una volta tra le braccia del fratello. Poi uno dei cani parlò e disse: "Il nostro compito è finito; non hai più bisogno di noi. Abbiamo solo aspettato di vedere che nella prosperità non ti dimenticassi di tua sorella." E con queste parole i tre cani divennero tre uccelli e volarono via nei cieli.
---
Fratelli Grimm




---
(traduzione dall'inglese di Annarita Verzola)