The Story of Hassebu



(MP3-11'45'')
Once upon a time there lived a poor woman who had only one child, and he was a little boy called Hassebu. When he ceased to be a baby, and his mother thought it was time for him to learn to read, she sent him to school. And, after he had done with school, he was put into a shop to learn how to make clothes, and did not learn; and he was put to do silversmith's work, and did not learn; and whatsoever he was taught, he did not learn it. His mother never wished him to do anything he did not like, so she said: 'Well, stay at home, my son.' And he stayed at home, eating and sleeping.
One day the boy said to his mother: 'What was my father's business?'
'He was a very learned doctor,' answered she.
'Where, then, are his books?' asked Hassebu.
'Many days have passed, and I have thought nothing of them. But look inside and see if they are there.' So Hassebu looked, and saw they were eaten by insects, all but one book, which he took away and read.
He was sitting at home one morning poring over the medicine book, when some neighbours came by and said to his mother: 'Give us this boy, that we may go together to cut wood.' For wood-cutting was their trade, and they loaded several donkeys with the wood, and sold it in the town.
And his mother answered, 'Very well; to-morrow I will buy him a donkey, and you can all go together.'
So the donkey was bought, and the neighbours came, and they worked hard all day, and in the evening they brought the wood back into the town, and sold it for a good sum of money. And for six days they went and did the like, but on the seventh it rained, and the wood-cutters ran and hid in the rocks, all but Hassebu, who did not mind wetting, and stayed where he was.
While he was sitting in the place where the wood-cutters had left him, he took up a stone that lay near him, and idly dropped it on the ground. It rang with a hollow sound, and he called to his companions, and said, 'Come here and listen; the ground seems hollow!'
'Knock again!' cried they. And he knocked and listened.
'Let us dig,' said the boy. And they dug, and found a large pit like a well, filled with honey up to the brim.
'This is better than firewood,' said they; 'it will bring us more money. And as you have found it, Hassebu, it is you who must go inside and dip out the honey and give to us, and we will take it to the town and sell it, and will divide the money with you.'
The following day each man brought every bowl and vessel he could find at home, and Hassebu filled them all with honey. And this he did every day for three months.
At the end of that time the honey was very nearly finished, and there was only a little left, quite at the bottom, and that was very deep down, so deep that it seemed as if it must be right in the middle of the earth. Seeing this, the men said to Hassebu, 'We will put a rope under your arms, and let you down, so that you may scrape up all the honey that is left, and when you have done we will lower the rope again, and you shall make it fast, and we will draw you up.'
'Very well,' answered the boy, and he went down, and he scraped and scraped till there was not so much honey left as would cover the point of a needle. 'Now I am ready!' he cried; but they consulted together and said, 'Let us leave him there inside the pit, and take his share of the money, and we will tell his mother, "Your son was caught by a lion and carried off into the forest, and we tried to follow him, but could not."'
Then they arose and went into the town and told his mother as they had agreed, and she wept much and made her mourning for many months. And when the men were dividing the money, one said, 'Let us send a little to our friend's mother,' and they sent some to her; and every day one took her rice, and one oil; one took her meat, and one took her cloth, every day.
It did not take long for Hassebu to find out that his companions had left him to die in the pit, but he had a brave heart, and hoped that he might be able to find a way out for himself. So he at once began to explore the pit and found it ran back a long way underground. And by night he slept, and by day he took a little of the honey he had gathered and ate it; and so many days passed by.
One morning, while he was sitting on a rock having his breakfast, a large scorpion dropped down at his feet, and he took a stone and killed it, fearing it would sting him. Then suddenly the thought darted into his head, 'This scorpion must have come from somewhere! Perhaps there is a hole. I will go and look for it,' and he felt all round the walls of the pit till he found a very little hole in the roof of the pit, with a tiny glimmer of light at the far end of it. Then his heart felt glad, and he took out his knife and dug and dug, till the little hole became a big one, and he could wriggle himself through. And when he had got outside, he saw a large open space in front of him, and a path leading out of it.
He went along the path, on and on, till he reached a large house, with a golden door standing open. Inside was a great hall, and in the middle of the hall a throne set with precious stones and a sofa spread with the softest cushions. And he went in and lay down on it, and fell fast asleep, for he had wandered far.
By-and-by there was a sound of people coming through the courtyard, and the measured tramp of soldiers. This was the King of the Snakes coming in state to his palace.
They entered the hall, but all stopped in surprise at finding a man lying on the king's own bed. The soldiers wished to kill him at once, but the king said, 'Leave him alone, put me on a chair,' and the soldiers who were carrying him knelt on the floor, and he slid from their shoulders on to a chair. When he was comfortably seated, he turned to his soldiers, and bade them wake the stranger gently. And they woke him, and he sat up and saw many snakes all round him, and one of them very beautiful, decked in royal robes.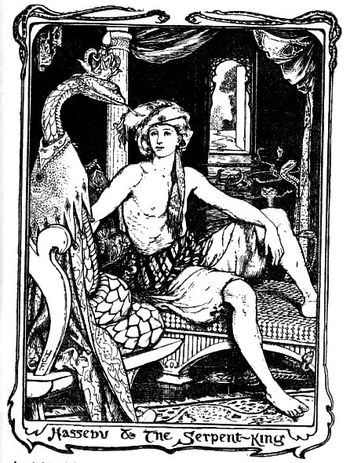 'Who are you?' asked Hassebu.
'I am the King of the Snakes,' was the reply, 'and this is my palace. And will you tell me who you are, and where you come from?'
'My name is Hassebu, but whence I come I know not, nor whither I go.'
'Then stay for a little with me,' said the king, and he bade his soldiers bring water from the spring and fruits from the forest, and to set them before the guest.
For some days Hassebu rested and feasted in the palace of the King of the Snakes, and then he began to long for his mother and his own country. So he said to the King of the Snakes, 'Send me home, I pray.'
But the King of the Snakes answered, 'When you go home, you will do me evil!'
'I will do you no evil,' replied Hassebu; 'send me home, I pray.'
But the king said, 'I know it. If I send you home, you will come back, and kill me. I dare not do it.' But Hassebu begged so hard that at last the king said, 'Swear that when you get home you will not go to bathe where many people are gathered.' And Hassebu swore, and the king ordered his soldiers to take Hassebu in sight of his native city. Then he went straight to his mother's house, and the heart of his mother was glad.
Now the Sultan of the city was very ill, and all the wise men said that the only thing to cure him was the flesh of the King of the Snakes, and that the only man who could get it was a man with a strange mark on his chest. So the Vizir had set people to watch at the public baths, to see if such a man came there.
For three days Hassebu remembered his promise to the King of the Snakes, and did not go near the baths; then came a morning so hot he could hardly breathe, and he forgot all about it.
The moment he had slipped off his robe he was taken before the Vizir, who said to him, 'Lead us to the place where the King of the Snakes lives.'
'I do not know it!' answered he, but the Vizir did not believe him, and had him bound and beaten till his back was all torn.
Then Hassebu cried, 'Loose me, that I may take you.'
They went together a long, long way, till they reached the palace of the King of the Snakes.
And Hassebu said to the King: 'It was not I: look at my back and you will see how they drove me to it.'
'Who has beaten you like this?' asked the King.
'It was the Vizir,' replied Hassebu.
'Then I am already dead,' said the King sadly, 'but you must carry me there yourself.'
So Hassebu carried him. And on the way the King said, 'When I arrive, I shall be killed, and my flesh will be cooked. But take some of the water that I am boiled in, and put it in a bottle and lay it on one side. The Vizir will tell you to drink it, but be careful not to do so. Then take some more of the water, and drink it, and you will become a great physician, and the third supply you will give to the Sultan. And when the Vizir comes to you and asks, "Did you drink what I gave you?" you must answer, "I did, and this is for you," and he will drink it and die! and your soul will rest.'
And they went their way into the town, and all happened as the King of the Snakes had said.
And the Sultan loved Hassebu, who became a great physician, and cured many sick people. But he was always sorry for the poor King of the Snakes.
---
Adapted from Swahili Tales.

La storia di Hassebu


C'era una volta una povera donna che aveva un unico figlio, un bambino chiamato Hassebu. Quando non fu più un bambino e sua madre pensò fosse giunto per lui il momento di imparare a leggere, lo mandò a scuola. E dopo che ebbe frequentato la scuola, fu mandato in una bottega a imparare a cucire abiti e non imparò; fu mandato a svolgere il lavoro di argentiere e non imparò; e qualsiasi cosa gli fosse insegnata, non la imparava. Sua madre non aveva mai desiderato facesse qualcosa che non gli piaceva, così disse: "Ebbene, figlio mio, resta a casa." E lui rimase a casa, a mangiare e a dormire.
Un giorno il ragazzo disse a sua madre: "Qual era il lavoro di mio padre?"
"Era un medico assai colto." gli rispose.
"Allora dove sono i suoi libri?" chiese Hassebu.
"È trascorso molto tempo e non me ne sono più curata. Ma guarda là dentro e vedi se ci sono." Così Hassebu guardò e vide che erano stati mangiucchiati dagli insetti, tutti tranne un libro che portò via da leggere.
Una mattina era seduto in casa a studiare con attenzione il libro di medicina quando vennero alcuni vicini e dissero a sua madre: "Dacci il ragazzo, che lo si possa portare con noi a tagliare legna." Erano dei taglialegna di mestiere e caricavano di legna numerosi muli per venderla in città.
La madre rispose: "Benissimo, domani gli comprerò un asino e potrete andare tutti insieme."
Così fu acquistato l'asino e i vicini partirono; lavorarono duramente tutto il giorno e la sera tornarono in città a vendere la legna e guadagnarono una buona somma di denaro. Andarono avanti per sei giorni a fare la medesima cosa, ma il settimo giorno piovve e i taglialegna si ripararono tra le rocce, tutti tranne Hassebu che non curò di bagnarsi e rimase dove si trovava.
Mentre era seduto nel posto in cui lo avevano lasciato i taglialegna, prese una pietra che stava vicino a lui e la gettò oziosamente a terra. Provocò un suono cupo e così chiamò i compagni e disse lo: "Venite qui a sentire, il terreno suona come se fosse cavo!"
"Bussa ancora!" esclamarono. Lui bussò e rimasero in ascolto.
Il ragazzo disse: "Scaviamo." E scavarono, trovando una buca grossa come un pozzo, colma di miele fino all'orlo.
"È meglio della legna da ardere," dissero gli uomini "ci frutterà molto più denaro. Siccome l'hai trovato tu, Hassebu, dovrai essere tu ad andare dentro e tirar fuori il miele per darcelo, così lo porteremo in città, lo venderemo e divideremo con te il denaro."
Il giorno seguente ciascun uomo portò tutti i vasi e i recipienti che poté trovare in casa e Hassebu li riempì tutti di miele. E così fu tutti i giorni per tre mesi.
Alla fine di quel periodo il miele fu quasi completamente finito e ne era rimasto solo un poco, proprio sul fondo, che era molto profondo, così profondo da sembrare che si potesse giungere al centro della terra. Vedendo ciò, gli uomini dissero a Hassebu: "Ti legheremo una corda sotto le braccia e ti caleremo giù, così che tu possa grattare via tutto il miele che è rimasto; quando lo avrai fatto, caleremo la corda ancora più in profondità e tu farai in fretta e ti tireremo di nuovo su."
"Benissimo." rispose il ragazzo e andò giù e raschiò e raschiò finché non rimase miele quanto ne sarebbe bastato per coprire la punta di un ago. "Adesso sono pronto!" gridò il ragazzo, ma gli uomini si consultarono l'un l'altro e dissero: "Lasciamolo laggiù in fondo alla fossa e prendiamoci la sua parte di denaro; alla madre diremo 'Tuo figlio è stato catturato da un leone e portato nella foresta; abbiamo tentato di seguirlo, ma non ce l'abbiamo fatta.'"
Allora si alzarono e andarono in città e dissero alla madre ciò che avevano concordato e lei pianse tanto e portò il lutto per molti mesi. Quando gli uomini si furono divisi le monete, uno disse: "Mandiamone un po' alla madre del nostro amico." E gliene mandarono. Ogni giorno uno le portava il riso e uno l'olio; uno le portava la carne e uno vestiti, ogni giorno.
Non ci volle molto perché Hassebu capisse che i compagni lo avevano lasciato a morire nella fossa, ma era coraggioso e sperava di riuscire a trovare una via d'uscita. Così cominciò subito a esplorare la fossa e scoprì che scendeva molto in profondità. Di notte dormiva e di giorno prendeva un po' di miele che aveva messo da parte e lo mangiava; trascorsero così molti giorni.
Una mattina, mentre era seduto su una roccia a fare colazione, un grosso scorpione cadde ai suoi piedi e lui prese una pietra e lo uccise, temendo di essere punto. All'improvviso un pensiero gli attraversò la mente. 'Questo scorpione deve provenire da qualche parte! Forse c'è un buco. Andrò a cercarlo.' E tastò tutte le pareti della fossa finché trovò un buco assai piccolo sul soffitto della fossa, con un lieve barlume di luce all'estremità. Il suo cuore si rallegrò, tirò fuori il coltello e scavo, scavò finché il piccolo buco diventò grande e vi poté passare attraverso. Quando fu all'esterno, vide un vasto spazio di fronte a sé e un sentiero che conduceva fuori da esso.
Percorse il sentiero e, cammina, cammina, giunse presso una grande casa con una porta d'oro aperta. All'interno vi era una vasta sala e nel mezzo della sala stavano un trono fatto di pietre preziose e un divano cosparso dei più morbidi cuscini. Il ragazzo vi andò e vi si sdraiò, addormentandosi profondamente perché aveva camminato a lungo.
Di lì a poco giunse un rumore di persone che attraversavano il cortile e del passo ritmato di soldati. Era il Re dei Serpenti che veniva nel proprio palazzo.
Entrarono nella sala, ma si fermarono tutti stupiti nel trovare un uomo disteso sul letto del re. i soldati volevano ucciderlo subito, ma il re disse: "Lasciatelo solo, portatemi una sedia." e i soldati che lo stavano trasportando si inginocchiarono sul pavimento e lui scivolò giù dalle loro spalle su una sedia. Quando si fu seduto comodamente, si rivolse ai soldati e ordinò loro di svegliare gentilmente il forestiero. Lo svegliarono e lui sedette e vide tanti serpenti intorno a sé e uno di essi era splendido, avvolto in abiti regali.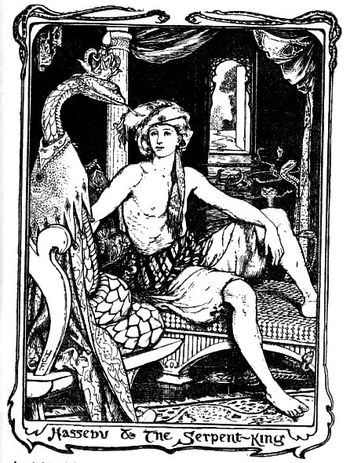 "Chi sei?" chiese Hassebu.
"Sono il Re dei Serpenti," fu la risposta "e questo è il mio palazzo. Mi diresti chi sei e da dove vieni?"
"Mi chiamo Hassebu, ma non so da dove io venga né dove vada."
"Allora resta un po' qui con me." disse il re, e ordinò ai soldati di portare acqua dalla sorgente e frutta dalla foresta e di mettere il tutto davanti all'ospite.
Per alcuni giorni Hassebu rimase a banchettare nel palazzo del Re dei Serpenti poi cominciò a sentire nostalgia della madre e del suo paese. Così disse al Re dei Serpenti: "Ti prego, mandami a casa."
Ma il Re dei Serpenti rispose: "Quando andrai a casa, mi farai del male!"
"Non ti farò del male," rispose Hassebu "mandami a casa, ti prego."
Ma il re disse: "Lo so. Se ti manderò a casa, tu tornerai e mi ucciderai. Non ho il coraggio di farlo." Ma Hassebu lo pregò tanto che alla fine il re disse: "Giura che quando sarai tornato a casa non andrai a fare il bagno dove sono radunate molte persone.". Hassebu giurò e il re ordinò ai soldati di condurre Hassebu in vista della sua città natia. Allora lui andò difilato a casa della madre e il cuoire della donna fu pieno di felicità.
Dovete sapere che il sultano della città era molto malato e tutti i saggi avevano detto che l'unica cosa in grado di curarlo era la carne del Re dei Serpenti e che l'unico che poteva ottenerla era uomo con uno strano marchio sul petto. Così il visir mandò persone ai bagni pubblici per vedere se un tale uomo fosse lì.
Per tre giorni Hassebu rammentò la promessa fatta al Re dei Serpenti e non andò neppure vicino ai bagni, poi ci fu una mattina così caldo in cui non riusciva a respirare e si dimenticò di tutto.
Nel momento in cui si liberò dei vestiti fu condotto davanti al visir che gli disse: "Portaci nel luogo in cui vive il Re dei Serpenti."
"Non lo conosco!" rispose il ragazzo, ma il visir non gli credette e lo fece legare e picchiare finché la sua schiena fu tutta lacerata.
Allora Hassebu gridò: "Lasciami stare, così che ti ci possa condurre."
Percorsero insieme un lungo, lungo cammino finché giunsero al palazzo del Re dei Serpenti.
Hassebu disse al Re: "Non sono stato io: guarda la mia schiena e vedrai come mi hanno indotto a farlo."
"Chi ti ha picchiato così?" chiese il re.
"È stato il visir." rispose Hassebu.
"Allora sono già morto," disse tristemente il re, "ma dovrai trasportarmi tu stesso."
Così Hassebu lo portò. Lungo la strada il re disse: "Quando sarò arrivato, sarò ucciso e la mia carne cucinata. Prendi un po' d'acqua in cui mi avranno fatto bollire, mettila in una bottiglia e poggiala su un lato. Il visir ti dirà di berla, ma tu bada bene di non farlo. Allora prendi ancora più acqua e bevila, così diventerai un grande medico e il terzo sorso lo offrirai al sultano. Quando il visir verrà a chiederti: 'Hai bevuto ciò che ti ho dato?' tu dovrai rispondere: 'L'ho fatto, e questa è per te.' E lui berrà e morirà! La tua anima troverà così pace."
Proseguirono per la strada verso la città e tutto avvenne come aveva detto il Re dei Serpenti.
Il sultano prese a benvolere Hassebu, che diventò un grande medico e curò molta gente malata, però fu sempre dispiaciuto per il povero Re dei Serpenti.
---
Adattamento dalle fiabe Swahili.




---
(traduzione dall'inglese di Annarita Verzola)