The Flowers Queen's Daughter



(MP3-12'57'')
A young Prince was riding one day through a meadow that stretched for miles in front of him, when he came to a deep open ditch. He was turning aside to avoid it, when he heard the sound of someone crying in the ditch. He dismounted from his horse, and stepped along in the direction the sound came from. To his astonishment he found an old woman, who begged him to help her out of the ditch. The Prince bent down and lifted her out of her living grave, asking her at the same time how she had managed to get there.
'My son,' answered the old woman, 'I am a very poor woman, and soon after midnight I set out for the neighbouring town in order to sell my eggs in the market on the following morning; but I lost my way in the dark, and fell into this deep ditch, where I might have remained for ever but for your kindness.'
Then the Prince said to her, 'You can hardly walk; I will put you on my horse and lead you home. Where do you live?'
'Over there, at the edge of the forest in the little hut you see in the distance,' replied the old woman.
The Prince lifted her on to his horse, and soon they reached the hut, where the old woman got down, and turning to the Prince said, 'Just wait a moment, and I will give you something.' And she disappeared into her hut, but returned very soon and said, 'You are a mighty Prince, but at the same time you have a kind heart, which deserves to be rewarded. Would you like to have the most beautiful woman in the world for your wife?'
'Most certainly I would,' replied the Prince.
So the old woman continued, 'The most beautiful woman in the whole world is the daughter of the Queen of the Flowers, who has been captured by a dragon. If you wish to marry her, you must first set her free, and this I will help you to do. I will give you this little bell: if you ring it once, the King of the Eagles will appear; if you ring it twice, the King of the Foxes will come to you; and if you ring it three times, you will see the King of the Fishes by your side. These will help you if you are in any difficulty. Now farewell, and heaven prosper your undertaking.' She handed him the little bell, and there disappeared hut and all, as though the earth had swallowed her up.
Then it dawned on the Prince that he had been speaking to a good fairy, and putting the little bell carefully in his pocket, he rode home and told his father that he meant to set the daughter of the Flower Queen free, and intended setting out on the following day into the wide world in search of the maid.
So the next morning the Prince mounted his fine horse and left his home. He had roamed round the world for a whole year, and his horse had died of exhaustion, while he himself had suffered much from want and misery, but still he had come on no trace of her he was in search of. At last one day he came to a hut, in front of which sat a very old man. The Prince asked him, 'Do you not know where the Dragon lives who keeps the daughter of the Flower Queen prisoner?'
'No, I do not,' answered the old man. 'But if you go straight along this road for a year, you will reach a hut where my father lives, and possibly he may be able to tell you.'
The Prince thanked him for his information, and continued his journey for a whole year along the same road, and at the end of it came to the little hut, where he found a very old man. He asked him the same question, and the old man answered, 'No, I do not know where the Dragon lives. But go straight along this road for another year, and you will come to a hut in which my father lives. I know he can tell you.'
And so the Prince wandered on for another year, always on the same road, and at last reached the hut where he found the third old man. He put the same question to him as he had put to his son and grandson; but this time the old man answered, 'The Dragon lives up there on the mountain, and he has just begun his year of sleep. For one whole year he is always awake, and the next he sleeps. But if you wish to see the Flower Queen's daughter go up the second mountain: the Dragon's old mother lives there, and she has a ball every night, to which the Flower Queen's daughter goes regularly.'
So the Prince went up the second mountain, where he found a castle all made of gold with diamond windows. He opened the big gate leading into the courtyard, and was just going to walk in, when seven dragons rushed on him and asked him what he wanted?
The Prince replied, 'I have heard so much of the beauty and kindness of the Dragon's Mother, and would like to enter her service.'
This flattering speech pleased the dragons, and the eldest of them said, 'Well, you may come with me, and I will take you to the Mother Dragon.'
They entered the castle and walked through twelve splendid halls, all made of gold and diamonds. In the twelfth room they found the Mother Dragon seated on a diamond throne. She was the ugliest woman under the sun, and, added to it all, she had three heads. Her appearance was a great shock to the Prince, and so was her voice, which was like the croaking of many ravens. She asked him, 'Why have you come here?'
The Prince answered at once, 'I have heard so much of your beauty and kindness, that I would very much like to enter your service.'
'Very well,' said the Mother Dragon; 'but if you wish to enter my service, you must first lead my mare out to the meadow and look after her for three days; but if you don't bring her home safely every evening, we will eat you up.'
The Prince undertook the task and led the mare out to the meadow. But no sooner had they reached the grass than she vanished. The Prince sought for her in vain, and at last in despair sat down on a big stone and contemplated his sad fate. As he sat thus lost in thought, he noticed an eagle flying over his head. Then he suddenly bethought him of his little bell, and taking it out of his pocket he rang it once. In a moment he heard a rustling sound in the air beside him, and the King of the Eagles sank at his feet.
'I know what you want of me,' the bird said. 'You are looking for the Mother Dragon's mare who is galloping about among the clouds. I will summon all the eagles of the air together, and order them to catch the mare and bring her to you.' And with these words the King of the Eagles flew away. Towards evening the Prince heard a mighty rushing sound in the air, and when he looked up he saw thousands of eagles driving the mare before them. They sank at his feet on to the ground and gave the mare over to him. Then the Prince rode home to the old Mother Dragon, who was full of wonder when she saw him, and said, 'You have succeeded to-day in looking after my mare, and as a reward you shall come to my ball to-night.' She gave him at the same time a cloak made of copper, and led him to a big room where several young he-dragons and she-dragons were dancing together.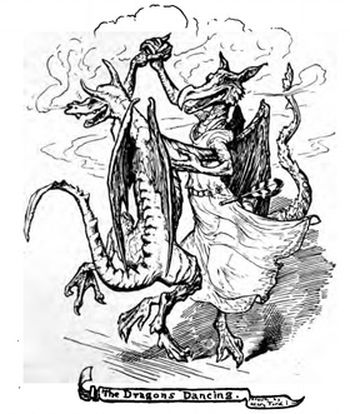 Here, too, was the Flower Queen's beautiful daughter. Her dress was woven out of the most lovely flowers in the world, and her complexion was like lilies and roses. As the Prince was dancing with her he managed to whisper in her ear, 'I have come to set you free!'
Then the beautiful girl said to him, 'If you succeed in bringing the mare back safely the third day, ask the Mother Dragon to give you a foal of the mare as a reward.'
The ball came to an end at midnight, and early next morning the Prince again led the Mother Dragon's mare out into the meadow. But again she vanished before his eyes. Then he took out his little bell and rang it twice.
In a moment the King of the Foxes stood before him and said: 'I know already what you want, and will summon all the foxes of the world together to find the mare who has hidden herself in a hill.'
With these words the King of the Foxes disappeared, and in the evening many thousand foxes brought the mare to the Prince.
Then he rode home to the Mother Dragon, from whom he received this time a cloak made of silver, and again she led him to the ball-room.
The Flower Queen's daughter was delighted to see him safe and sound, and when they were dancing together she whispered in his ear: 'If you succeed again to-morrow, wait for me with the foal in the meadow. After the ball we will fly away together.'
On the third day the Prince led the mare to the meadow again; but once more she vanished before his eyes. Then the Prince took out his little bell and rang it three times.
In a moment the King of the Fishes appeared, and said to him: 'I know quite well what you want me to do, and I will summon all the fishes of the sea together, and tell them to bring you back the mare, who is hiding herself in a river.'
Towards evening the mare was returned to him, and when he led her home to the Mother Dragon she said to him:
'You are a brave youth, and I will make you my body-servant. But what shall I give you as a reward to begin with?'
The Prince begged for a foal of the mare, which the Mother Dragon at once gave him, and over and above, a cloak made of gold, for she had fallen in love with him because he had praised her beauty.
So in the evening he appeared at the ball in his golden cloak; but before the entertainment was over he slipped away, and went straight to the stables, where he mounted his foal and rode out into the meadow to wait for the Flower Queen's daughter. Towards midnight the beautiful girl appeared, and placing her in front of him on his horse, the Prince and she flew like the wind till they reached the Flower Queen's dwelling. But the dragons had noticed their flight, and woke their brother out of his year's sleep. He flew into a terrible rage when he heard what had happened, and determined to lay siege to the Flower Queen's palace; but the Queen caused a forest of flowers as igh as the sky to grow up round her dwelling, through which no one could force a way.
When the Flower Queen heard that her daughter wanted to marry the Prince, she said to him: 'I will give my consent to your marriage gladly, but my daughter can only stay with you in summer. In winter, when everything is dead and the ground covered with snow, she must come and live with me in my palace underground.'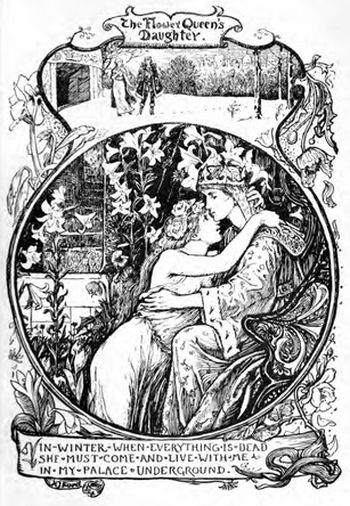 The Prince consented to this, and led his beautiful bride home, where the wedding was held with great pomp and magnificence. The young couple lived happily together till winter came, when the Flower Queen's daughter departed and went home to her mother. In summer she returned to her husband, and their life of joy and happiness began again, and lasted till the approach of winter, when the Flower Queen's daughter went back again to her mother. This coming and going continued all her life long, and in spite of it they always lived happily together.
---
From the Bukowinaer, Von Wliolocki

La figlia della Regina dei Fiori


Un giorno un giovane principe stava cavalcando in un prato che si stendeva per miglia di fronte a lui quando giunse vicino a un profondo fossato. Stava girandogli di lato per evitarlo quando udì che qualcuno lì dentro piangeva. Scese da cavallo e s'incammino nella direzione dalla quale proveniva il suono. Con suo stupore trovò una vecchia che lo pregò di aiutarla a uscire dal fossato. Il principe si chinò e la fece risalire da quella sorta di tomba, chiedendole nel medesimo tempo come fosse riuscita a finirvi dentro.
La vecchia rispose: "Figlio mio, sono una povera vecchia e poco dopo mezzanotte sono uscita dalla città vicina per andare a vendere le uova al mercato del mattino seguente; mi sono smarrita bel buio e sono caduta in questo fossato in cui sarei potuta rimanere per sempre se non fosse stato per la tua gentilezza."
Allora il principe disse: "Potete camminare a malapena, vi farò salire sul mio cavallo e vi condurrò a casa. Dove vivete?"
"Laggiù, al margine della foresta, nella casetta che vedi in lontananza." rispose la vecchia.
Il principe la fece salire a cavallo e ben presto raggiunsero la casetta, lì la vecchia scese e, volgendosi verso il principe, disse: "Aspetta solo un momento e ti darò qualcosa." E sparì in casa, ma tornò subito e disse. "Tu sei un principe potente, ma nel medesimo tempo sei di cuore gentile e meriti di essere ricompensato. Ti piacerebbe avere in moglie la donna più bella del mondo?"
"Certo che mi piacerebbe." ripose il principe.
Così la vecchia proseguì: "La donna più bella del mondo è la figlia della Regina dei Fiori ed è stata catturata da un drago. Se desideri sposarla, prima devi liberarla e ti aiuterò io a farlo. Ti darò questa campanella: se la suonerai una volta, comparirà il Re delle Aquile; se la suonerai due volte, il Re delle Volpi verrà da te; se la suonerai tre volte, avrai al tuo fianco il Re dei Pesci. Ti aiuteranno se sarai in difficoltà. Addio, e il cielo ti sia propizio nell'impresa." gli mise in mano la campanella e sparì con tutta la casetta, come se la terra li avesse inghiottiti.
L'alba si levò sul principe, che aveva parlato con una buona fata, e , mettendo in tasca con cura la campanella, cavalcò verso casa; disse a suo padre che voleva liberare la figlia della Fata dei Fiori aveva intenzione di andare per il vasto mondo il giorno seguente in cerca della fanciulla.
Così il mattino successivo il principe salì sul suo bel cavallo e lasciò il palazzo. Girò il mondo per un anno intero e il cavallo morì di sfinimento mentre lui stesso soffrì molto la povertà e l'infelicità, ma tuttavia non aveva tracce di colei che stava cercando. Alla fine un giorno giunse presso una casetta di fronte alla quale sedeva un uomo molto vecchio. Il principe gli chiese: "Sapete dove vive il drago che tiene prigioniera la figlia della Regina dei Fiori?"
"Non lo so," rispose il vecchio "ma se andrai diritto per quella strada per un anno, arriverai a una casetta in cui vive mio padre e può darsi che lui possa dirtelo."
Il principe ringraziò per l'informazione e continuò il viaggio per un intero anno lungo la medesima strada e alla fine giunse alla casetta dove trovò un uomo molto vecchio. Gli rivolse la medesima domanda e il vecchio rispose: "No, non so dove viva il drago, ma vai diritto per questa strada per un anno e arriverai in una casetta in cui vive mio padre. So che può dirtelo."
E così il principe vagò per un altro anno, sempre sulla medesima strada, e alla fine raggiunse la casetta in cui trovò il terzo uomo vecchio. Gli rivolse la medesima domanda che aveva posto a suo figlio e a suo nipote, ma stavolta il vecchio rispose: "Il drago vive in cima alla montagna ed è appena cominciato il suo anno di sonno. Per un anno intero è sempre sveglio e il successivo dorme. Ma se desideri vedere la figlia della Regina dei Fiori, sali la seconda montagna: là vive la vecchia madre del drago e ogni notte dà un ballo al quale partecipa regolarmente la figlia della Regina dei Fiori.
Così il principe salì sulla seconda montagna dove trovò un castello tutto d'oro con le finestre di diamante. Aprì il grande cancello che portava in cortile e stava giusto per entrare quando sette draghi si gettarono su di lui e gli chiesero che cosa volesse.
Il principe rispose: "Ho tanto sentito parlare della bellezza e della gentilezza della Madre del Drago che vorrei mettermi al suo servizio."
Questa risposta adulatoria piacque ai draghi e il più anziano di loro disse: "Puoi venire con me e ti porterò da Madre Drago."
Entrarono nel castello e attraversarono dodici splendide sale, tutte d'oro e di diamanti. Nella dodicesima trovarono Madre Drago seduta su un trono di diamanti. Era la donna più brutta sotto il sole e, oltretutto, aveva tre teste. Il suo aspetto fu un grosso colpo per il principe, altrettanto la sua voce, simile al gracchiare di numerosi corvi. Gli chiese: "Perché sei venuto qui?"
Il principe rispose subito: "Ho sentito parlare così tanto delle vostre bellezza e gentilezza che mi piacerebbe molto mettermi al vostro servizio."
Madre Drago disse: "Molto bene, ma se desideri entrare al mio servizio, prima dovrai portare nel prato la mia giumenta e sorvegliarla per tre giorni; se non me la riporterai a casa salva ogni sera, ti mangerò."
Il principe si assunse l'impegno e portò la giumenta sul prato. Appena ebbero raggiunto l'erba, svanì. Il principe la cercò invano e alla fine, disperato, sedette su una grossa pietra a contemplare il proprio triste destino. Improvvisamente si rammentò della campanella e, prendendola dalla tasca, la suonò una volta. In un attimo udì un suono frusciante accanto a sé e il Re delle Aquile calò ai suoi piedi.
"So che cosa vuoi da me." disse l'uccello "Stavi sorvegliando la giumenta di Madre Drago che è scappata fra le nuvole. Radunerò tutte le aquile dell'aria e ordinerò loro di catturarla e riportartela." e con queste parole il Re delle Aquile volò via. Verso sera il principe udì un potente fruscio nell'aria e quando guardò su, vide migliaia di aquile che conducevano davanti a loro la giumenta. Si posarono sul terreno ai suoi piedi e gli consegnarono la giumenta. Allora il principe cavalcò a casa dalla vecchia Madre Drago, che fu assai stupita di vederlo e disse: "Oggi sei riuscito a sorvegliare la mia giumenta e per ricompensa stanotte verrai al mio ballo." nel medesimo tempo gli diede una maschera di rame e lo condusse in una vasta sala in cui alcuni giovani draghi, maschi e femmine, stavano ballando insieme.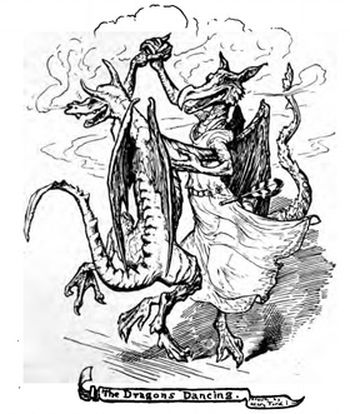 Lì c'era anche la splendida figlia della Regina dei Fiori. Il suo abito era intessuto dei più bei fiori del mondo e la sua carnagione era simile ai gigli e alle rose. Mentre il principe stava danzando con lei, provò a sussurrarle in un orecchio: "Sono venuto per liberarti!"
Allora la fanciulla gli disse: "Se riuscirai a riportarle sana e salva la giumenta il terzo giorno, chiedi a Madre Drago di darti uno dei suoi puledri come ricompensa."
Il ballo terminò a mezzanotte e il mattino seguente, molto presto, il principe condusse di nuovo nel prato la giumenta di Madre Drago. Ma di nuovo svanì davanti ai suoi occhi. Allora prese la campanella e la suonò due volte.
In un attimo il Re delle Volpi gli fu davanti e disse: "So già che cosa vuoi e radunerò insieme tutte le volpi del mondo per trovare la giumenta che si è nascosta su una collina."
Con quelle parole il Re delle Volpi sparì e la sera migliaia di volpi condussero la giumenta dal principe.
Allora cavalcò a casa da Madre Drago, dalla quale stavolta ricevette una maschera d'argento e di nuovo lo condusse nella sala da ballo.
La figlia della Regina delle Fate fu contenta di vederlo sano e salvo e quando danzarono insieme, gli sussurrò in un orecchio: "Se se domani avrai di nuovo successo, aspettami nel prato con il puledro. Dopo il ballo fuggiremo insieme."
il terzo giorno il principe condusse di nuovo nel prato la giumenta, ma ancora una volta svanì davanti ai suoi occhi. Allora il principe tirò fuori la campanellina e la suonò tre volte.
In un attimo comparve il Re dei Pesci e gli disse: "So bene che cosa vuoi che io faccia; riunirò insieme tutti i pesci del mare e dirò loro di riportarti la giumenta che si è nascosta nel fiume."
Verso sera la giumenta gli fu restituita e, quando la condusse a casa, Madre Drago gli disse:
"Sei un ragazzo coraggioso e farò di te il mio servitore personale. Che cosa posso darti come ricompensa, tanto per cominciare?"
Il principe la pregò di dargli un puledro della giumenta, che Madre Drago gli concesse subito, e in aggiunta una maschera d'oro perché si era innamorata di lui che aveva elogiato la sua bellezza.
Così la sera al ballo comparve con la maschera d'oro, ma prima che la festa fosse finita, sgattaiolò via e andò difilato alle stalle, montò in sella al puledro e cavalcò nel prato per aspettare la figlia della Regina dei Fiori. Verso mezzanotte la splendida fanciulla comparve e, facendola salire sul cavallo davanti a lui, lei e il principe volarono via come il vento finché raggiunsero la dimora della Regina dei Fiori. I draghi però si erano accorti della loro fuga e svegliarono il fratello dal suo sonno di un anno. Si adirò terribilmente quando sentì ciò che era accaduto e decise di cingere d'assedio il palazzo della Regina dei Fiori, ma la Regina innalzò una foresta di fiori alta come il cielo intorno alla sua dimora così che nessun o potesse farsi strada a forza.
Quando la Regina dei Fiori sentì che la figlia voleva sposare il principe, gli disse: "Darò volentieri il mio consenso alle nozze, ma mia figlia potrà stare con te solo d'estate. In inverno, quando ogni cosa è morta e il terreno è coperto di neve, dovrà vivere con me nel mio palazzo sotterraneo."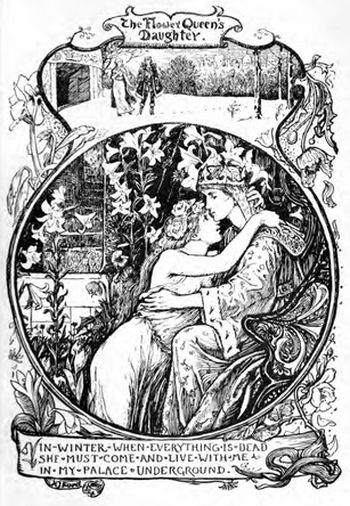 Il principe acconsentì e condusse la magnifica sposa a casa propria, dove si celebrò il matrimonio con grande sfarzo e magnificenza. La giovane coppia viveva felicemente insieme finché giungeva l'inverno, quando la figlia della Regina dei Fiori partiva e tornava a casa dalla madre. In estate tornava dal marito e la loro vita di gioia e di felicità e terminava con l'arrivo dell'inverno, quando la figlia della Regina dei Fiori tornava di nuovo dalla madre. Si andò avanti così per tutta la vita ma, malgrado ciò, vissero sempre insieme felici e contenti.
---
Favola della Bucovina ( territorio oggi diviso tra Romania e Ucraina che fa parte della regione geografica della Moldavia) , raccolta da Heinrich Von Wlislocki.




---
(traduzione dall'inglese di Annarita Verzola)