Once on a time there was a king who had an only daughter. He was so proud and so fond of her, that he was in constant terror that something would happen to her if she went outside the palace, and thus, owing to his great love for her, he forced her to lead the life of a prisoner, shut up within her own rooms.
The princess did not like this at all, and one day she complained about it very bitterly to her nurse. Now, the nurse was a witch, though the king did not know it. For some time she listened and tried to soothe the princess; but when she saw that she would not be comforted, she said to her: 'Your father loves you very dearly, as you know. Whatever you were to ask from him he would give you. The one thing he will not grant you is permission to leave the palace. Now, do as I tell you. Go to your father and ask him to give you a wooden wheel-barrow, and a bear's skin. When you have got them bring them to me, and I will touch them with my magic wand. The wheel-barrow will then move of itself, and will take you at full speed wherever you want to go, and the bear's skin will make such a covering for you, that no one will recognise you.'
So the princess did as the witch advised her. The king, when he heard her strange request, was greatly astonished, and asked her what she meant to do with a wheel-barrow and a bear's skin. And the princess answered, 'You never let me leave the house—at least you might grant me this request' So the king granted it, and the princess went back to her nurse, taking the barrow and the bear's skin with her.
As soon as the witch saw them, she touched them with her magic wand, and in a moment the barrow began to move about in all directions. The princess next put on the bear's skin, which so completely changed her appearance, that no one could have known that she was a girl and not a bear. In this strange attire she seated herself on the barrow, and in a few minutes she found herself far away from the palace, and moving rapidly through a great forest. Here she stopped the barrow with a sign that the witch had shown her, and hid herself and it in a thick grove of flowering shrubs.
Now it happened that the prince of that country was hunting with his dogs in the forest. Suddenly he caught sight of the bear hiding among the shrubs, and calling his dogs, hounded them on to attack it. But the girl, seeing what peril she was in, cried, 'Call off your dogs, or they will kill me. What harm have I ever done to you?' At these words, coming from a bear, the prince was so startled that for a moment he stood stock-still, then he said quite gently, 'Will you come with me? I will take you to my home.'
'I will come gladly,' replied the bear; and seating herself on the barrow it at once began to move in the direction of the prince's palace. You may imagine the surprise of the prince's mother when she saw her son return accompanied by a bear, who at once set about doing the house-work better than any servant that the queen had ever seen.
Now it happened that there were great festivities going on in the palace of a neighbouring prince, and at dinner, one day, the prince said to his mother: 'This evening there is to be a great ball, to which I must go.'
And his mother answered, 'Go and dance, and enjoy yourself.'
Suddenly a voice came from under the table, where the bear had rolled itself, as was its wont: 'Let me come to the ball; I, too, would like to dance.'
But the only answer the prince made was to give the bear a kick, and to drive it out of the room.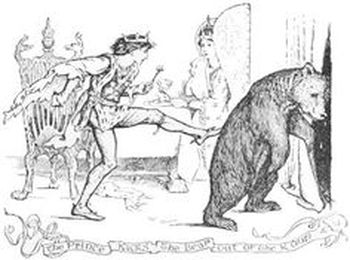 I
n the evening the prince set off for the ball. As soon as he had started, the bear came to the queen and implored to be allowed to go to the ball, saying that she would hide herself so well that no one would know she was there. The kind-hearted queen could not refuse her. Then the bear ran to her barrow, threw off her bear's skin, and touched it with the magic wand that the witch had given her. In a moment the skin was changed into an exquisite ball dress woven out of moon-beams, and the wheel-barrow was changed into a carriage drawn by two prancing steeds. Stepping into the carriage the princess drove to the grand entrance of the palace. When she entered the ball-room, in her wondrous dress of moon-beams, she looked so lovely, so different from all the other guests, that everyone wondered who she was, and no one could tell where she had come from.
From the moment he saw her, the prince fell desperately in love with her, and all the evening he would dance with no one else but the beautiful stranger.
When the ball was over, the princess drove away in her carriage at full speed, for she wished to get home in time to change her ball dress into the bear's skin, and the carriage into the wheel-barrow, before anyone discovered who she was.
The prince, putting spurs into his horse, rode after her, for he was determined not to let her out of his sight. But suddenly a thick mist arose and hid her from him. When he reached his home he could talk to his mother of nothing else but the beautiful stranger with whom he had danced so often, and with whom he was so much in love. And the bear beneath the table smiled to itself, and muttered: 'I am the beautiful stranger; oh, how I have taken you in!'
The next evening there was a second ball, and, as you may believe, the prince was determined not to miss it, for he thought he would once more see the lovely girl, and dance with her and talk to her, and make her talk to him, for at the first ball she had never opened her lips.
And, sure enough, as the music struck up the first dance, the beautiful stranger entered the room, looking even more radiant than the night before, for this time her dress was woven out of the rays of the sun. All evening the prince danced with her, but she never spoke a word.
When the ball was over he tried once more to follow her carriage, that he might know whence she came, but suddenly a great waterspout fell from the sky, and the blinding sheets of rain hid her from his sight.
When he reached his home he told his mother that he had again seen the lovely girl, and that this time she had been even more beautiful than the night before. And again the bear smiled beneath the table, and muttered: 'I have taken him in a second time, and he has no idea that I am the beautiful girl with whom he is so much in love.'
On the next evening, the prince returned to the palace for the third ball. And the princess went too, and this time she had changed her bear's skin into a dress woven out of the star-light, studded all over with gems, and she looked so dazzling and so beautiful, that everyone wondered at her, and said that no one so beautiful had ever been seen before. And the prince danced with her, and, though he could not induce her to speak, he succeeded in slipping a ring on her finger.
When the ball was over, he followed her carriage, and rode at such a pace that for long he kept it in sight. Then suddenly a terrible wind arose between him and the carriage, and he could not overtake it.
When he reached his home he said to his mother, 'I do not know what is to become of me; I think I shall go mad, I am so much in love with that girl, and I have no means of finding out who she is. I danced with her and I gave her a ring, and yet I do not know her name, nor where I am to find her.'
Then the bear laughed beneath the table and muttered to itself.
And the prince continued: 'I am tired to death. Order some soup to be made for me, but I don't want that bear to meddle with it. Every time I speak of my love the brute mutters and laughs, and seems to mock at me. I hate the sight of the creature!'
When the soup was ready, the bear brought it to the prince; but before handing it to him, she dropped into the plate the ring the prince had given her the night before at the ball. The prince began to eat his soup very slowly and languidly, for he was sad at heart, and all his thoughts were busy, wondering how and where he could see the lovely stranger again. Suddenly he noticed the ring at the bottom of the plate. In a moment he recognised it, and was dumb with surprise.
Then he saw the bear standing beside him, looking at him with gentle, beseeching eyes, and something in the eyes of the bear made him say: 'Take off that skin, some mystery is hidden beneath it.'
And the bear's skin dropped off, and the beautiful girl stood before him, in the dress woven out of the star-light, and he saw that she was the stranger with whom he had fallen so deeply in love. And now she appeared to him a thousand times more beautiful than ever, and he led her to his mother. And the princess told them her story, and how she had been kept shut up by her father in his palace, and how she had wearied of her imprisonment. And the prince's mother loved her, and rejoiced that her son should have so good and beautiful a wife.
So they were married, and lived happily for many years, and reigned wisely over their kingdom.
---
Unknown.

L'orsa


C'era una volta un re che aveva un'unica figlia. Era così orgoglioso di lei e l'amava tanto che viveva nel costante terrore che le sarebbe accaduto qualcosa se fosse uscita dal palazzo e così, a causa del grande amore per lei, l'obbligava a condurre l'esistenza di una prigioniera, segregata nelle sue stanze.
Alla principessa ciò non piaceva per niente e un giorno se ne lamentò assai amaramente con la nutrice. Dovete sapere che la nutrice era una strega, benché il re non lo sapesse. Per un po' di tempo ascoltò la principessa e tentò di consolarla, ma quando vide che non si consolava, le disse: "Tuo padre ti ama assai teneramente, lo sai. Qualsiasi cosa tu gli chieda, te la dà. L'unica cosa che non ti concederà sarà il permesso di lasciare il palazzo. Allora, fai come ti dico. Vai da tuo padre e chiedigli di darti un carrettino di legno e una pelle di orsa. Quando li avrai avuti, portali da me e io li toccherò con la mia bacchetta magica. Il carrettino allora si muoverà da solo e ti porterà a gran velocità ovunque tu voglia andare mentre la pelle d'orsa ti servirà per coprirti così nessuno ti riconoscerà."
Così la principessa fece come le aveva detto la nutrice. Il re, quando udì le strane richieste, rimase assai perplesso e chiese che intendesse farsene di un carrettino di legno e di una pelle d'orsa. La principessa rispose: "Non mi lasci mai uscire di casa… almeno potresti acconsentire a questa mia richiesta." Così il re acconsentì e la principessa tornò dalla nutrice portando con sé il carrettino e la pelle d'orsoa
Appena la strega li vide, li toccò con la bacchetta magica e in un attimo il carrettino cominciò a muoversi in tutte le direzioni. Poi la principessa indossò la pelle d'orsa che mutò completamente il suo aspetto. Sedette nel carrettino in questo strano abbigliamento e in pochi minuti si trovò lontana dal palazzo, muovendosi a gran velocità in una vasta foresta. Lì fermò il carrettino con un gesto che la strega le aveva mostrato e si nascose con esso in un folto boschetto di arbusti fioriti.
Capitò che il principe di quel paese stesse cacciando nella foresta con i cani. Improvvisamente avvistò l'orsa che si nascondeva tra gli arbusti e, chiamando i cani, li sguinzagliò perché l'attaccassero. La ragazza, vedendo in quale pericolo si trovasse, gridò: "Richiama i tuoi cani oppure mi uccideranno. Che cosa ti ho mai fatto di male?" A quella parole, che provenivano da un'orsa, il principe rimase così sorpreso che per un momento rimase immobile poi disse assai gentilmente: "Verrai con me? Ti porterò a casa mia."
"Verrò volentieri." rispose l'orsa e, accomodandosi sul carrettino, cominciò subito a dirigersi verso il palazzo del principe. Potete immaginare la sorpresa della madre del principe quando vide tornare il figlio accompagnato da un' orsa che si diede subito a svolgere i lavori domestici meglio di qualsiasi servitore la regina avesse mai visto.
Si diede il caso che si dovessero tenere grandi festeggiamenti nel palazzo di un principe confinante e un giorno a pranzo il principe disse a sua madre: "Stasera si terrò un gran ballo al quale devo partecipare."
La madre rispose: "Vai e danza, e divertiti!"
Improvvisamente giunse una voce da sotto il tavolo, dove l'orsa si era acciambellata come suo solito: "Lasciami venire al ballo, anche a me piacerebbe danzare."
Ma l'unica risposta che il principe diede all'orsa fu affibbiarle un calcio e cacciarla fuori dalla stanza.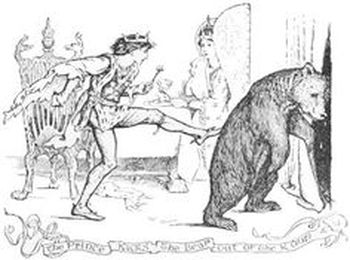 La sera il principe andò al ballo. Appena se ne fu andato, l'orsa andò dalla regina e la implorò di permetterle di andare al ballo, dicendo che si sarebbe nascosta così bene che nessuno avrebbe scoperto chi fosse. La generosa regina non poté rifiutare.
Allora l'orsa corse al carretto, si liberò della pelle e la toccò con la bacchetta magica che le aveva dato la strega. In un istante la pelle si mutò in uno splendido abito da ballo intessuto di raggi di luna e il carrettino fu trasformato in una carrozza trainata da due impettiti destrieri. Salendo in carrozza, la principessa si recò all'ingresso principale del palazzo. Quando entrò nella sala da ballo, con quel meraviglioso abito di raggi lunari, apparve così bella e così diversa da tutti gli altri ospiti che ognuno si domandava chi fosse e nessuno sapeva dire da dove fosse venuta.
Nel momento in cui la vide, il principe si innamorò perdutamente di lei e per tutta la sera non volle danzare con nessun'altra che non fosse la splendida straniera.
Quando il ballo fu terminato, la principessa risalì in carrozza perché desiderava tornare a casa in tempo per mutare l'abito da ballo nella pelle dell'orsa e la carrozza nel carretto prima che qualcuno scoprisse chi fosse.
Il principe, piantando gli speroni nei fianchi del cavallo, galoppò dietro di lei perché era deciso a non perderla di vista. Ma improvvisamente si levò una fitta nebbia che gliela nascose. Quando fu giunto a casa, non fece altro che raccontare alla madre della meravigliosa straniera con cui aveva danzato così spesso e della quale era assai innamorato. E l'orsa sotto il tavolo sorrideva tra sé e borbottava: "Sono io la meravigliosa straniera… oh, dunque ti ho conquistato!"
La sera successiva vi fu un secondo ballo e potete ben credere che il principe fosse deciso a non perderlo, perché pensava che avrebbe visto un'altra volta l'affascinante fanciulla e danzato e parlato con lei, e che l'avrebbe fatta parlare con lui perché durante il primo ballo non aveva mai aperto bocca.
Com'era prevedibile, appena la musica diede l'avvio alla prima danza, la bellissima straniera entrò nella sala, con un aspetto assai più radioso della sera precedente perché stavolta il suo abito era intessuto di raggi di sole. Per tutta la sera il principe danzò con lei, che non pronunciò mai una parola.
Quando il ballo fu terminato, egli tentò di nuovo di inseguire la sua carrozza per poter capire da dove venisse, ma improvvisamente calò una potente tromba marina e lo scroscio accecante della pioggia gliela nascose alla vista.
Quando fu tornato a casa, raccontò alla madre di aver visto di nuovo l'affascinante fanciulla e che stavolta era ancora più bella della notte precedente. E di nuovo l'orsa sorrise sotto il tavolo, e farfugliò: "L'ho conquistato per la seconda volta e lui non immagina che sia io la meravigliosa fanciulla della quale è tanto innamorato."
La notte successiva il principe tornò a palazzo per il terzo ballo. Vi andò anche la principessa e stavolta aveva mutato la pelle dell'orso in un abito intessuto con la luce delle stelle, tutto tempestato di gemme, e appariva così abbagliante e bella che ognuno ne era sbalordito e diceva di non aver mai visto prima una fanciulla così bella. Il principe danzò con lei e, sebbene non riuscisse a indurla a parlare, riuscì però a infilarle un anello al dito.
Quando il ballo fu terminato, seguì la sua carrozza e galoppò a una tale velocità che per un bel po' di tempo non la perse di vista. Poi improvvisamente si levò un terribile vento tra lui e la carrozza e non poté raggiungerla.
Quando fu a casa, disse alla madre: "Non so che ne sarà di me; pensò che impazzirò, sono così innamorato di quella fanciulla e non ho modo di scoprire chi sia. Ho danzato con lei e le ho dato un anello e tuttavia non conosco il suo nome né so dove possa trovarla."
Allora l'orsa rise sotto il tavolo e borbottò tra sé.
Il principe proseguì: "Sono stanco morto. Ordina che mi preparino un po' di minestra, ma non voglio che se ne impicci l'orsa. Ogni volta in cui parlo del mio amore, quell'orribile creatura borbotta e ride, sembra che si prenda gioco di me. Odio la sua vista!"
Quando la minestra fu pronta, l'orsa la portò al principe ma, prima di mettergliela tra le mani, fece cadere nel piatto l'anello che lui le aveva dato la notte prima la ballo. Il principe cominciò a mangiare assai lentamente e svogliatamente perché aveva il cuore pesante, e tutti i suoi pensieri erano occupati dal modo e dal luogo in cui avrebbe potuto di nuovo vedere la bella straniera. Improvvisamente notò l'anello in fondo al piatto. Lo riconobbe all'istante e restò ammutolito per la sorpresa.
Poi vide l'orsa che stava in piedi davanti a lui, guardandolo con occhi gentili e supplici, e qualcosa in quello sguardo gli fece dire: "Levati di dosso quella pelle, vi si nasconde sotto qualche mistero."
La pelle dell'orsa scivolò via e davanti a lui c'era la splendida fanciulla con l'abito intessuto della luce delle stelle e così lui vide che era la straniera di cui era profondamente innamorato. Gli appariva ora mille volte più bella che mai e la condusse da sua madre. La principessa raccontò loro la propria storia, come fosse stata segregata nel palazzo dal padre e si fosse stancata di quella prigionia. La madre del principe si era affezionata a lei e fu contenta che il figlio potesse avere una moglie cosi buona e bella.
Così si sposarono e vissero felici e contenti per molti anni, regnando saggiamente sul paese.
---
Origine sconosciuta.




---
(traduzione dall'inglese di Annarita Verzola)