THERE was once a man who had three sons. The youngest of them was called Dullhead, and was sneered and jeered at and snubbed on every possible opportunity.
One day it happened that the eldest son wished to go into the forest to cut wood, and before he started his mother gave him a fine rich cake and a bottle of wine, so that he might be sure not to suffer from hunger or thirst.
When he reached the forest he met a little old grey man who wished him 'Good-morning,' and said: 'Do give me a piece of that cake you have got in your pocket, and let me have a draught of your wine—I am so hungry and thirsty.'
But this clever son replied: 'If I give you my cake and wine I shall have none left for myself; you just go your own way;' and he left the little man standing there and went further on into the forest. There he began to cut down a tree, but before long he made a false stroke with his axe, and cut his own arm so badly that he was obliged to go home and have it bound up.
Then the second son went to the forest, and his mother gave him a good cake and a bottle of wine as she had to his elder brother. He too met the little old grey man, who begged him for a morsel of cake and a draught of wine.
But the second son spoke most sensibly too, and said: 'Whatever I give to you I deprive myself of. Just go your own way, will you?' Not long after his punishment overtook him, for no sooner had he struck a couple of blows on a tree with his axe, than he cut his leg so badly that he had to be carried home.
So then Dullhead said: 'Father, let me go out and cut wood.'
But his father answered: 'Both your brothers have injured themselves. You had better leave it alone; you know nothing about it.'
But Dullhead begged so hard to be allowed to go that at last his father said: 'Very well, then—go. Perhaps when you have hurt yourself, you may learn to know better.' His mother only gave him a very plain cake made with water and baked in the cinders, and a bottle of sour beer.
When he got to the forest, he too met the little grey old man, who greeted him and said: 'Give me a piece of your cake and a draught from your bottle; I am so hungry and thirsty.'
And Dullhead replied: 'I've only got a cinder-cake and some sour beer, but if you care to have that, let us sit down and eat.'
So they sat down, and when Dullhead brought out his cake he found it had turned into a fine rich cake, and the sour beer into excellent wine. Then they ate and drank, and when they had finished the little man said: 'Now I will bring you luck, because you have a kind heart and are willing to share what you have with others. There stands an old tree; cut it down, and amongst its roots you'll find something.' With that the little man took leave.
Then Dullhead fell to at once to hew down the tree, and when it fell he found amongst its roots a goose, whose feathers were all of pure gold. He lifted it out, carried it off, and took it with him to an inn where he meant to spend the night.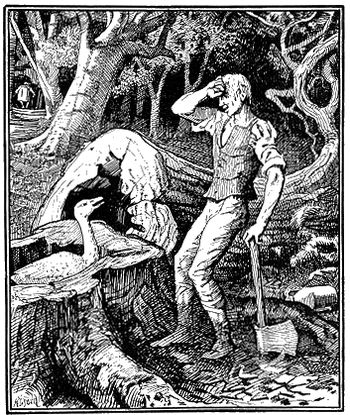 Now the landlord of the inn had three daughters, and when they saw the goose they were filled with curiosity as to what this wonderful bird could be, and each longed to have one of its golden feathers.
The eldest thought to herself: 'No doubt I shall soon find a good opportunity to pluck out one of its feathers,' and the first time Dullhead happened to leave the room she caught hold of the goose by its wing. But, lo and behold! her fingers seemed to stick fast to the goose, and she could not take her hand away.
Soon after the second daughter came in, and thought to pluck a golden feather for herself too; but hardly had she touched her sister than she stuck fast as well. At last the third sister came with the same intentions, but the other two cried out: 'Keep off! for Heaven's sake, keep off!'
The younger sister could not imagine why she was to keep off, and thought to herself: 'If they are both there, why should not I be there too?'
So she sprang to them; but no sooner had she touched one of them than she stuck fast to her. So they all three had to spend the night with the goose.
Next morning Dullhead tucked the goose under his arm and went off, without in the least troubling himself about the three girls who were hanging on to it. They just had to run after him right or left as best they could. In the middle of a field they met the parson, and when he saw this procession he cried: 'For shame, you bold girls! What do you mean by running after a young fellow through the fields like that? Do you call that proper behaviour?' And with that he caught the youngest girl by the hand to try and draw her away. But directly he touched her he hung on himself, and had to run along with the rest of them.
Not long after the clerk came that way, and was much surprised to see the parson following the footsteps of three girls. 'Why, where is your reverence going so fast?' cried he; 'don't forget there is to be a christening to-day;' and he ran after him, caught him by the sleeve, and hung on to it himself: As the five of them trotted along in this fashion one after the other, two peasants were coming from their work with their hoes. On seeing them the parson called out and begged them to come and rescue him and the clerk. But no sooner did they touch the clerk than they stuck on too, and so there were seven of them running after Dullhead and his goose.
After a time they all came to a town where a King reigned whose daughter was so serious and solemn that no one could ever manage to make her laugh. So the King had decreed that whoever should succeed in making her laugh should marry her.
When Dullhead heard this he marched before the Princess with his goose and its appendages, and as soon as she saw these seven people continually running after each other she burst out laughing, and could not stop herself.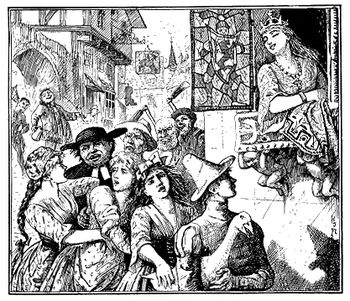 Then Dullhead claimed her as his bride, but the King, who did not much fancy him as a son-in-law, made all sorts of objections, and told him he must first find a man who could drink up a whole cellarful of wine.
Dullhead bethought him of the little grey man, who could, he felt sure, help him; so he went off to the forest, and on the very spot where he had cut down the tree he saw a man sitting with a most dismal expression of face.
Dullhead asked him what he was taking so much to heart, and the man answered: 'I don't know how I am ever to quench this terrible thirst I am suffering from. Cold water doesn't suit me at all. To be sure I've emptied a whole barrel of wine, but what is one drop on a hot stone?'
'I think I can help you,' said Dullhead. 'Come with me, and you shall drink to your heart's content.' So he took him to the King's cellar, and the man sat down before the huge casks and drank and drank till he drank up the whole contents of the cellar before the day closed.
Then Dullhead asked once more for his bride, but the King felt vexed at the idea of a stupid fellow whom people called 'Dullhead' carrying off his daughter, and he began to make fresh conditions. He required Dullhead to find a man who could eat a mountain of bread. Dullhead did not wait to consider long but went straight off to the forest, and there on the same spot sat a man who was drawing in a strap as tight as he could round his body, and making a most woeful face the while. Said he: 'I've eaten up a whole oven full of loaves, but what's the good of that to anyone who is as hungry as I am? I declare my stomach feels quite empty, and I must draw my belt tight if I'm not to die of starvation.'
Dullhead was delighted, and said: 'Get up and come with me, and you shall have plenty to eat,' and he brought him to the King's Court.
Now the King had given orders to have all the flour in his kingdom brought together, and to have a huge mountain baked of it. But the man from the wood just took up his stand before the mountain and began to eat, and in one day it had all vanished.
For the third time Dullhead asked for his bride, but again the King tried to make some evasion, and demanded a ship 'which could sail on land or water! When you come sailing in such a ship,' said he, 'you shall have my daughter without further delay.'
Again Dullhead started off to the forest, and there he found the little old grey man with whom he had shared his cake, and who said: 'I have eaten and I have drunk for you, and now I will give you the ship. I have done all this for you because you were kind and merciful to me.'
Then he gave Dullhead a ship which could sail on land or water, and when the King saw it he felt he could no longer refuse him his daughter.
So they celebrated the wedding with great rejoicings; and after the King's death Dullhead succeeded to the kingdom, and lived happily with his wife for many years after.
---
Grimm.

L'oca d'oro


C'ERA una volta un uomo che aveva tre figli. Il più giovane di loro era soprannominato Tardone ed era deriso, preso di mira e disprezzato in ogni modo possibile.
Un giorno accadde che il figlio maggiore volesse andare nella foresta a tagliare la legna e, prima che se ne andasse, la madre gli diede una bella focaccia farcita e una bottiglia di vino così che fosse certo di non soffrire la fame e la sete.
Quando fu nella foresta, incontrò un ometto grigio che gli augurò il buongiorno e disse: "Dammi un pezzo della focaccia che hai nella borsa e fammi bere un goccio del tuo vino… sono così affamato e assetato."
Ma questo bravo ragazzo rispose: "Se ti do la mia focaccia e il mio vino, non rimarrà niente per me, vattene per la tua strada." e lasciò lì l'ometto, addentrandosi nella foresta. Lì cominciò ad abbattere un albero, ma poco dopo sbagliò un colpo con l'ascia e si ferì malamente un braccio così che fu costretto ad andare a casa per farsi bendare.
Allora il secondo figlio andò nella foresta e sua madre gli diede una buona focaccia e una bottiglia di vino come aveva fatto con il fratello maggiore. Anche lui incontrò l'ometto grigio che gli chiese un pezzetto di focaccia e un sorso di vino.
Ma anche il secondo figlio parlò molto ragionevolmente e disse: "se li dessi a te, me ne priverei io. Vai per la tua strada, va bene?" poco dopo fu punito perché appena ebbe dato un paio di colpi all'albero con l'ascia, si ferì malamente a una gamba e dovette essere portato a casa.
Così Tardone disse: "Padre, lasciami andare a tagliare la legna."
il padre rispose: "Entrambi i tuoi fratelli si sono feriti. Faresti meglio a lasciar perdere, che ne sai."
Ma Tardone pregò tanto che gli fu permesso di andare e infine il padre gli disse: "Bene, allora vai… forse quando ti sarai fatto male, imparerai che cosa è meglio." La madre gli diede solo una semplice focaccia fatta con l'acqua e cotta nella cenere e una bottiglia di birra inacidita.
Quando andò nella foresta, anche lui incontrò l'ometto grigio che lo salutò e disse: "Dammi un pezzo della tua focaccia e un sorso dalla tua bottiglia; sono così affamato e assetato."
Tardone rispose: "Ho solo una focaccia cotta nella cenere e un po' di birra inacidita, ma se ti vanno bene, sediamoci e mangiamo."
Così sedettero e quando Tardone tirò fuori la focaccia, scoprì che era diventata una bella focaccia farcita e che la birra inacidita si era trasformata in eccellente vino. Mangiarono e bevvero e quando ebbero finito, l'ometto disse: "Ti porterò fortuna perché hai un cuore buono e hai diviso volentieri con un altro ciò che avevi. Là c'è un vecchio albero, abbattilo e tra le radici troverai qualcosa. " e con queste parole l'ometto si congedò.
Allora Tardone andò subito ad abbattere l'albero e quando fu caduto, tra le radici trovò un'oca le cui piume erano d'oro puro. La raccolse, se ne andò e la portò con sé in una locanda nella quale intendeva trascorrere la notte.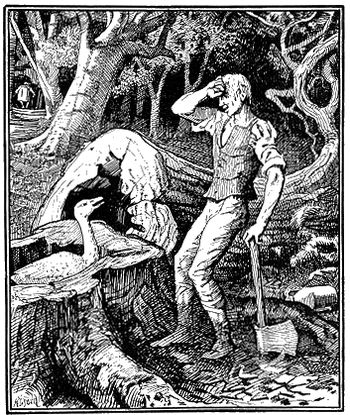 Il locandiere aveva tre figlie e quando videro l'oca furono curiose di sapere che razza di meraviglioso uccello fosse e ognuna desiderava possedere una delle sue piume d'oro.
La maggiore pensò tra sé: 'Senza dubbio troverò una buona opportunità per strappare una delle piume.' e la prima volta in cui Tardone lasciò la stanza, lei prese l'oca per le ali, ma, guarda un po'! le dita sembravano incollate all'oca e non poté più liberare la mano.
Ben presto giunse la seconda figlia con l'intenzione di prendersi una piuma d'oro, ma aveva appena toccato la sorella che resto rapidamente attaccata. Alla fine giunse la terza sorella, con le medesime intenzioni, ma le altre due le gridarono: "Stai lontana! Per amore del cielo, stai lontana!"
La più giovane non immaginava perché volessero tenerla lontana e pensò tra sé: 'Se stanno tutte e due lì, perché non posso starci anch'io?'
Così corse da loro, ma appena ne ebbe toccata una, rimase attaccata a lei. Così tutte e tre dovettero trascorrere la notte con l'oca.
Il mattino seguente Tardone prese l'oca sottobraccio e se ne andò, senza darsi la minima pena per le tre ragazze che erano lì attaccate. Dovevano solo corrergli dietro a destra e a sinistra secondo come lui andasse. In mezzo a un campo incontrò un parroco e quando egli vide la processione, gridò: "Vergognatevi, ragazze sfrontate! Che vuol dire correre così dietro un ragazzo attraverso i campi? Lo definite un comportamento appropriato?" e con queste parole afferrò la mano della più giovane per tentare di strapparla via. Appena la toccò, rimase attaccato anche lui e dovette correre con il resto della compagnia.
Poco dopo arrivò il sacrestano e fu molto sorpreso di vedere il parroco che seguiva le orme di tre ragazze. "Ebbene, dove sta andando così in fretta vostra reverenza?" gridò "non dimenticate che oggi è giornata di battesimi." e gli corse dietro, afferrandolo per la manica e rimando attaccato anche lui. Mentre i cinque trotterellavano in questo modo uno dietro l'altro, due contadini venivano via dal lavoro con le loro zappe. Vedendoli, il parroco gridò e li pregò venissero in aiuto suo e del sacrestano. Appena toccarono il sacrestano, rimasero attaccati anche loro e così diventarono sette a correre dietro tardone e la sua oca.
Dopo un po' di tempo giunsero in una città sulla quale regnava un sovrano la cui figlia era così seria e solenne che nessuno riusciva a farla ridere. Così il re aveva decretato che chiunque fosse riuscito a farla ridere l'avrebbe sposata.
Quando tardone lo seppe, marciò davanti alla principessa con l'oca e il suo corteo e appena lei vide sette persone che continuavano a correre una dopo l'altra, scoppiò a ridere senza potersi più trattenere.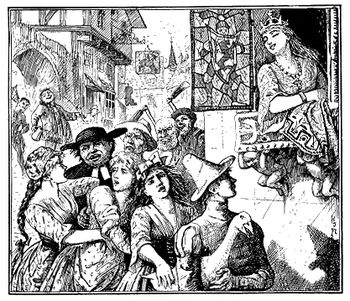 Allora Tardone la reclamò in sposa, ma il re, al quale non piaceva molto come genero, fece ogni sorta di obiezioni e gli disse che prima doveva trovare un uomo che potesse bere un'intera cantina di vini.
Tardone ripensò all'ometto grigio che di certo avrebbe potuto aiutarlo, così andò nella foresta e, nel luogo in cui aveva tagliato l'albero, vide seduto un uomo con un'espressione avvilita in viso.
Tardone gli chiese che cosa lo angustiasse e l'uomo rispose: "Non so come potrò mai placare questa sete terribile di cui soffro. L'acqua fredda non mi va bene. Ci crederesti che ho vuotato un'intera botte di vino, ma è stata come una goccia su una pietra rovente?"
"Penso di poterti aiutare," disse Tardone "vieni con me e berrà a cuor leggero!" così lo portò nella cantina del re e l'uomo sedette di fronte e alle enormi botti e bevve e bevve finché ebbe vuotato l'intero contenuto della cantina prima che finisse il giorno.
Allora Tardone reclamò ancora una volta la propria sposa, ma il re era contrariato all'idea che uno stupidotto qualunque, che la gente chiamava 'Tardone', potesse portare via sua figlia e pose nuove condizioni. Chiese a Tardone di trovare un uomo che mangiasse una montagna di pane. Tardone non ci pensò su troppo e andò difilato nella foresta e lì nel medesimo posto era seduto un uomo che stava stringendo la cintura che portava intorno alla vita, e mentre lo faceva aveva un viso infelice. Dise: "Ho mangiato un intero forno pieno di pagnotte, ma che bene può fare a uno affamato come me? Il mio stomaco q completamente vuoto e devo tirare la cinghia per non morire di fame."
Tardone fu contento e disse: "Alzati e vieni con me, avrai cibo in abbondanza." e lo portò alla corte del re.
Il re aveva ordinato che fosse ammucchiata tutta la farina del regno per cuocere una montagna di pane. Ma l'uomo del bosco sedette davanti alla montagna e cominciò a mangiare e in un giorno sparì tutto.
Per la terza volta Tardone chiese la sua sposa, ma di nuovo il re tentò di eludere la richiesta e chiese una nave "che potesse viaggiare per terra e per mare! Quando arriverai a bordo di una nave simile" disse "avrai mia figlia senza ulteriori indugi."
Di nuovo Tardone andò nella foresta e lì trovò l'ometto grigio con il quale aveva diviso la focaccia e che gli disse: "Ho mangiato e ho bevuto con te e adesso avrai la nave. Ho fatto tutto ciò perché sei stato gentile e compassionevole con me."
Allora Tardone ebbe una nave che poteva navigare per terra e per mare e quando il re la vide, capì di non potergli rifiutare più a lungo la figlia.
Così furono celebrate le nozze con grande contentezza e dopo la morte del re Tardone gli successe nel regno e visse felice con sua moglie per latri lunghi anni.
---
Fratelli Grimm.




---
(traduzione dall'inglese di Annarita Verzola)